Sikandar Ul Mulk not to play Shandur Polo after 30 years
Chitral: According to the list of Chitral's teams announced for the Shandur polo matches against GB province, one evergreen player is most conspicuous by his absence -Shahzada Sikandar Ul Mulk. It appears, watching the Shandur Cup match without Sikandar would be like eating an egg without salt. Sikandar Ul Mulk has been an icon of polo in Chitral and in all merit if any one person deserved the credit for keeping polo alive in Chitral, nourishing it and getting it to this stage, it would be this man. As a captain he never let down his team and sweeping victories against Gilgit over all these years owe much to his master strokes, nimble stick work and most of all to his inspiring leadership.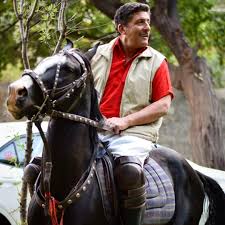 Not discussing the reasons for his not playing in the Shandur matches, the 62 year old symbol of polo deserves the accolades and the appreciation he has earned after sacrificing so much for polo. Since childhood polo has been a passion with him and instead of pursuing higher studies, opting for the best of jobs he could have easily got or doing full time business, he devoted his full time to the promotion of polo in Chitral. He calls it "labour of love".
It is expected that polo fans and the people of Chitral will give to him what he deserves -full honour, respect and acknowledgement. .. CN report, 01 Jul 2019