Book launching ceremony held
A book on Khowar poetry titled ? Bloidu Gamburi? ( withered flower) written by a prominent deceased poet Muhammad Changiz Khan Tariqi was launched posthumously at a ceremony held in the Assembly Hall Chitral. The ceremony was attended by participants from different walks of life. Those who spoke on the occasion included prominent educationists and literary figures Mr. Mukarram Shah and Mr.Mola Nigah Nigah and ADC Chitral Minhazuddin, Shahzada Tanvirul Mulk ,Khisrow and Irfanullah Irfan. The speakers heaped praise on the late poet for his literary contributions and described him as a ?Sufi Poet,? who was greatly inspired by the great mystic poet Moulana Jalauddin Rumi.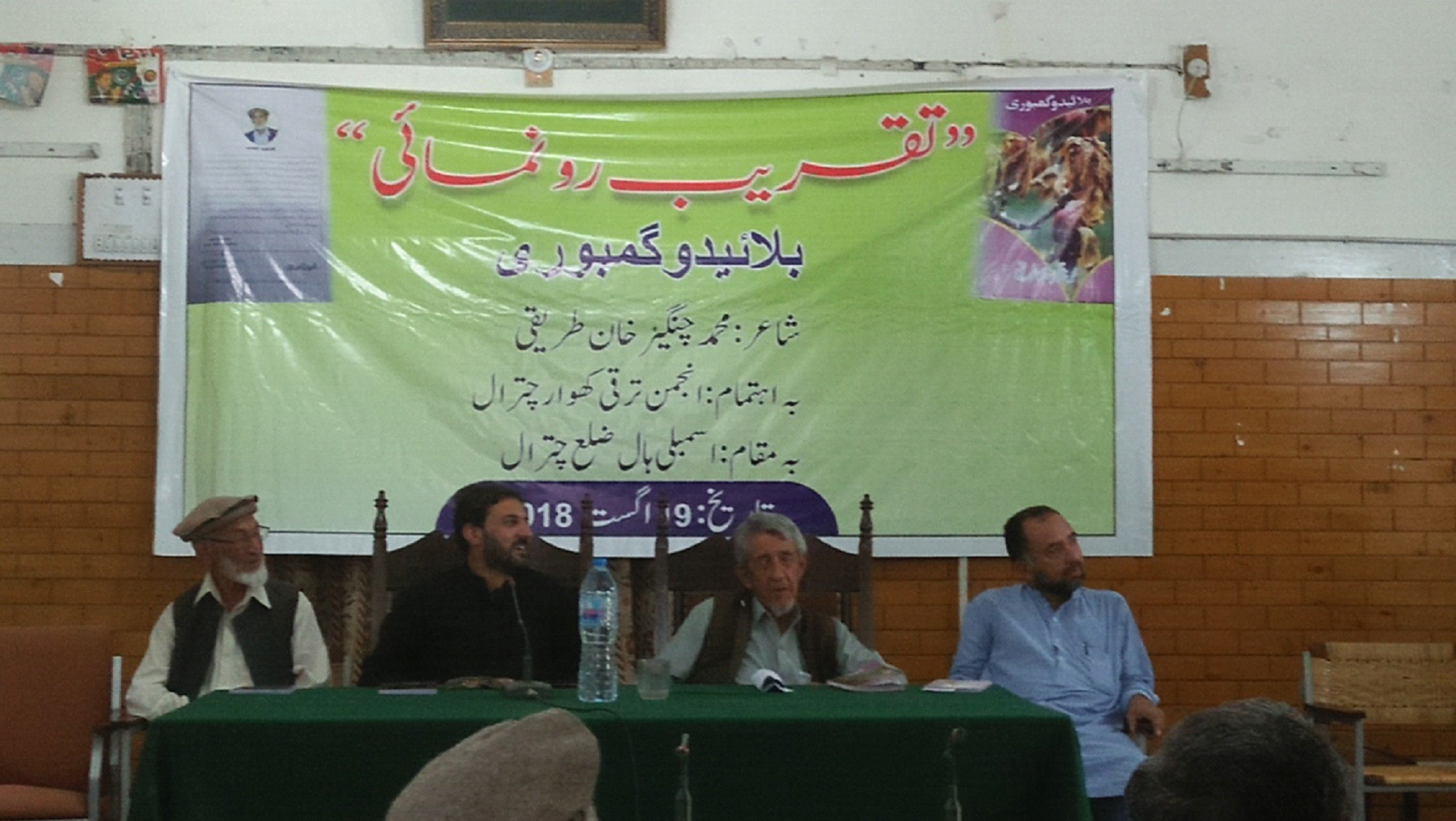 The title of the book at a first glance evoked an eerie response from the attendees as if they had encountered an unusual Khowar phraseology. Since the book was published posthumously under the aegis of the Anjuman-i- Tariqi Khowar, the title name refers to the deceased poet as withered flower, said the president of the literary organization. He added, were the poet alive today, the book would be titled as ?bloomed flower?. Once the English poet John Keats once said, ?Thy name shall be writ in waters?, unaware of fact that his name will be written in golden words in the realm of English literature after his death. Similarly, the memory of the great literary figure Changiz Khan Tariqi got resurrected in his magnum opus ? Bloidu Gamburi? posthumously.
It merits a mention here that Changiz Khan Tariqi was born in a scenic village of Shogram that boasts of producing the legendary mystic poet Baba Siyar. After doing his maters in Urdu literature, he was posted as a teacher in the education department. He was an avid reader with a penchant for disseminating his erudition in the form of verses. His love for Moulana Rumi was such that he had learned the ?Masnavi? verse for verse and could recite each single line spontaneously. He was one of the founding members of the ?Anjuman-i- Tariqi Khowar? (literary organization for the promotion of Khowar language Chitral); and his deeply entrenched love for the Khow culture and language is glaringly visible in his compendium of verses.? ..?Khalid Pervaiz, Booni Chitral 19 Aug 2018