Chitral: Friday saw rallies taken out against Indian aggression and in support of the armed forces of Pakistan in all major stations of Chitral district.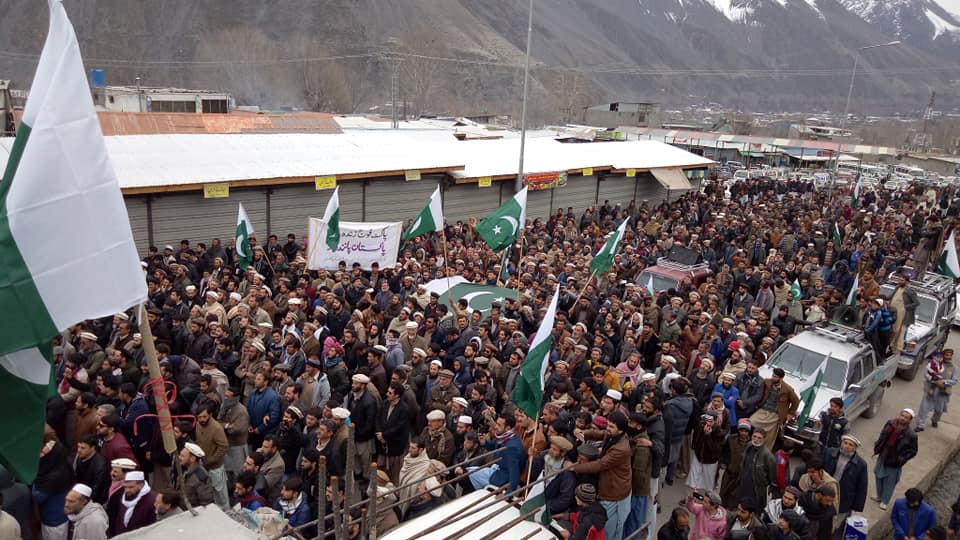 Rallies and public meetings were held in Booni, Drosh, Garm Chashma, Mastuj, Ayun, Warijun, etc , while the largest rally and public meeting was held in Chitral town at the Ataliq Chowk.
District nazim Maghfirat Shah, MPA Molana Hiidayatur Rahman, Ex MPA Molana Abdur Rahman, President PTI Abdul Latif, President Tajar union Shabir Ahmad, President Press Club, Zahiruddin, Waqas Ahmad Advocate Molana Israrudin, Qari Jamal Nasir, were amongst the speakers who unanimously condemned the hysterically belligerent attitude of Indian PM Narendra Modi while Pakistan is trying to bring peace to the region.
The speakers praised our armed forces for their bravery and patriotism. Molana Alhilal announced gift of a Chugha and Chitrali cap for the pilot who shot down an Indian aircraft. The meeting ended with anti Modi slogans and burning of an effigy of the Indian PM. .. CN report, 01 March 2019