CHITRAL: Chitralis gathered in large numbers in different towns to express solidarity with the armed forces and castigate India for it's threatening posture. A large number of people gathered on Sunday and took out a rally in Chitral town against India for threatening Pakistan of consequences in the wake of the suicide?attack on its security forces in Pulwama, occupied Kashmir, on Feb 14.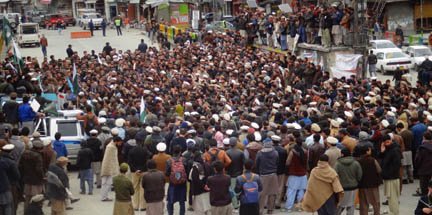 The participants of the rally, who were chanting ?Death to India? and other slogans, after passing through different? streets gathered at the Ataliq Chowk. The gathering? was chaired by Jamaat-e-Islami (JI) Chitral chief Molana Jamshed Ahmed.
Addressing the gathering, Molana Jamshed, Qari Naseem, Qari Jamal Nasir, Waqas Ahmed Adv, Nabik Kalash Adv, Charvelu Noor Ahmed Khan, Sultan Khan, Jahangir Jigar and others said if India ever committed the blunder of attacking Pakistan, the valiant people of Chitral would stand by their army like a wall of iron to defend the motherland.
They said any misadventure towards Pakistan would be tantamount to India signing its own death warrant. They said the uprising in occupied Kashmir was an indigenous movement against the oppression of the Indian forces and can in no way be called terrorism.
The protesters burnt an effigy of Indian Prime Minister Narendra Modi and dispersed peacefully. .. Muhkam Uddin Ayuni, Chitral 24 Feb 2019