Chitral: Shandur Polo festival had a throbbing climax when the Chitral A and Gilgit A teams fought it out neck to neck till the finish when Chitral put the ball through the goalpost in the dying moment of the match to win the Cup by a short head i.e a lead of one goal.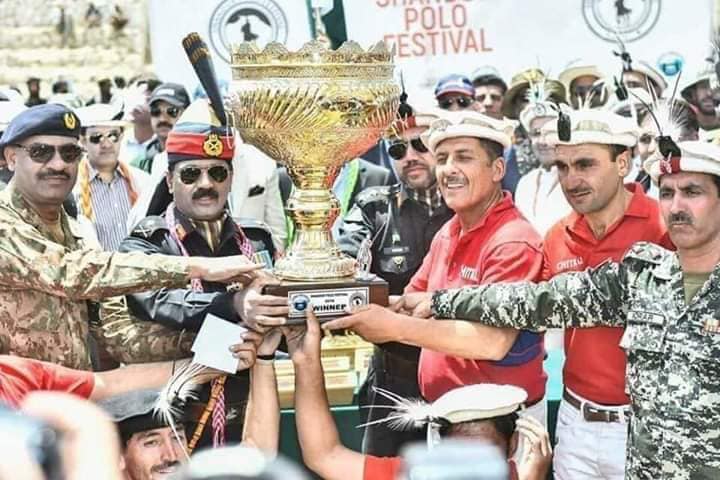 In the first half of the match Chitral team led by by five goals against two of Gilgit appearing the clearly stronger side. In the second half however Gilgit came on strong and equaled the score at 5-5. All this time Chitral was mostly on the attacking side but failed to convert many attacks into goals while the Gilgit players did not miss the chances they got.. The Gilgit players showed good stick work and control over the ball. However merit outshone finally when Chitral led by Shahzada Sikander Ul Mulk was rewarded with the winning goal, seconds before the trumpet blew. Izhar Ali stood out as top scorer from Chitral side scoring five out of six goals.
The final match was telecasted by PTV news. Prime minister was expected to witness the final game but his program got cancelled at the last moment due to his urgent commitments. Corps Commander Peshawar Lt Gen Shaheen Mazhar Mehmood was the Chief guest on the occasion.
One feature that was quite visible in the match as in previous Shandur festivals, was the good number of uniformed personnel visible witnessing the game as spectators. Military uniform is highly respected and venerated in Pakistan, however,? too many uniformed personnel in a civil festival looks a little odd. In countries where tourism is their main economy e.g Thailand, Turkey etc, there is strict vigilance by security staff, cameras etc on beaches and public places, but no uniformed person can be seen by tourists. All the duty personnel are in civvies and behave like tourists and mix with them while carrying out their vigilance. It is therefore hoped that this point will be considered in future Shandur and other festivals. .. CN report, 09 Jul 2019