Chitral: Power loadshedding is carried out when there is shortage of electricity in an area. Chitral produces 110 Mw electricity through the Golen power station and 30 Mw out of this has been dedicate to meet the need of Chitral districts, which presently use not more than 8 Mw.
Recently from out of no where and for no comprehensible reason on earth, electricity loadshedding began in Chitral, first unannounced and then formally scheduled for four hours of daily loadshedding. This is happening in an area over flowing with generated electric power.
After the people made some feeble protests, the elected representatives including the MNA and MPA met the electricity (PESCO) chief in Peshawar and after the meeting jubilantly announced that on their 'special' request the PESCO chief has promised to reduce the loadshedding period from four hours to two hours.? Now, even being very kind to the elected leaders, this is a poor show of representation on their part.
Instead of admonishing the PESCO chief for ordering unjustified loadshedding, they come out thanking the official for reducing the period from 4 hours to 2 and each wanting to get the credit for the 'big' achievement. The situation is best explained in the picture given below. (with thanks to whoever thought of it)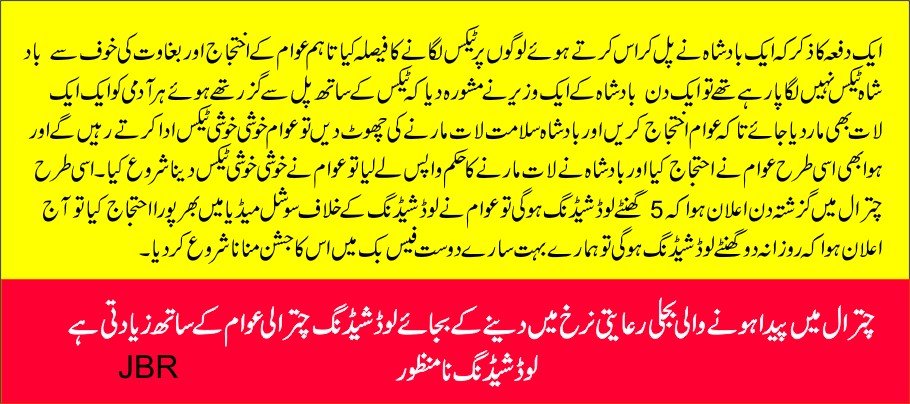 Our elected representative should strive to get the electricity tariff down to concessional rates as is allowed for people in electricity producing areas like AJK and GB, instead jubilating on loadshedding being reduced from 4 to 2 hours. .. CN report, 12 Jun 2019