Day—1: Tuesday, August 24, 2021: Travelling from Booni to Laspur
Traveled to the Laspur valley, the launching point of the Laspur to Kumrat trek, with Niat driver of village Brok in his 4-wheeled jeep bearing NWFP H 2311 Peshawar number at 12:30PM. I had the company of Mr. Ali Nawaz, a passionate trekker, budding tour guide, and well-trained social worker. One of the passengers in the vehicle turned out to be Mr. Shahidullah, the son of Amirullah Yaftali, who so kindly facilitated our visit to his father's home-based museum once we reached village Harchin, Laspur valley.
At Shaidas, the first village of the valley, the driver took us to a house, where a marriage party was on. They served us porridge seasoned with veal soup (lazhek), which we finished with tasty slices of veal. The food was gorgeous.
Laspur is a mountainous valley of Chitral district in the Khyber Pakhtunkhwa province, situated at the juncture of passes and treks leading to Gilgit Baltistan, Swat, Dir Kohistan, and Kumrat. These routes connect Laspur with Gilgit Baltistan further leading to Wakhan, Badakhshan, and Kashghor in eastern Turkistan.
Traces of human intervention in Laspur goes as back as 1800 BC, according to archeological evidence excavated in the area. The valley has been significant in the socio-cultural and the frequent movements of expeditions through its passes in addition to being the transport routes of merchandise from Dir, Swat, Gilgit, Afghanistan Western, and Eastern Turkistan. This has made Laspur a valley of cultural fusion and that is why here one could see the cultural diversity in terms of both material and non-material heritage. Precious cultural artifacts of the past are still available in the houses of the locals.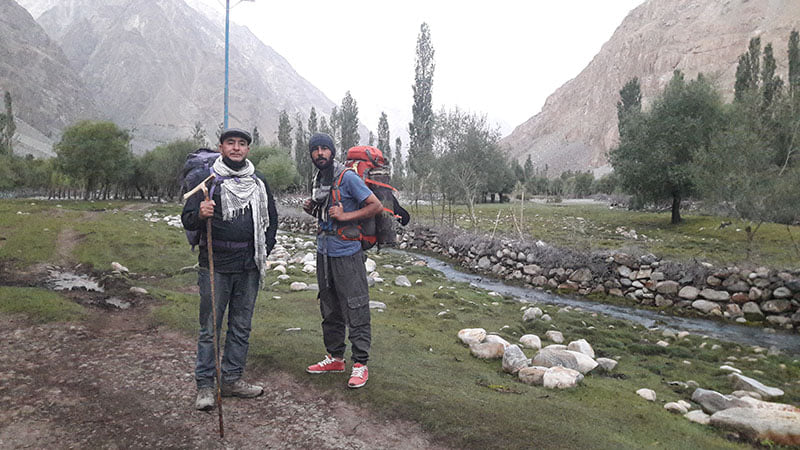 At Harchin, Laspur valley, we visited the home-based ethnological museum established by Mr. Amirullah Yaftali, the eldest son of 'Baba-e-Laspur'. The museum showcases a diverse array of the valuable material heritage of Kho culture from both the Laspur and Ghizer valleys. The antique items proudly tell the stories of the local culture. The artifacts have been carefully preserved and documented with notes against each item that makes it easily understandable for the visitors. It is the potential source to recover and revive the events that have had happened thousands of years back. The cultural artifacts are categorized under the themes: war and weaponry, freestyle polo, farming tools, primitive leather products of the region, indigenous woodcraft, music, and so on to mention a few. This museum is the best place for school, college, and university students to carry out research on the Kho culture that might open an alternative perspective on the local culture and history. It plays a critical component to prevent the indigenous culture and language from losing out.
The museum is located on the roadside, easily accessible and guests are warmly welcomed. The entry fee is nominal but varies for groups ranging from foreign and national tourists to locals, and students. It is a must-visit place for all those passing through the valley.
The village has a beautiful polo pitch and there are numerous trout fishing farms, which serve tourists at a reasonable price. Polo matches are organized most frequently.
At Balim Bridge, Mr. Mustansir Hussain, the son of the forester Zaheer Shah, received us. We went to his house for the night stay and start trekking by the next morning as early as possible. The family showed us much hospitality, and care serving us traditional food for dinner. Our thanks must go to them.
Balim (2911m) is a beautiful village that has produced a cadre of high-profile literati, writers, and other professionals at the national level. It is the village of Dr. Inayatullah Faizi (Pride of Performance), a renowned columnist, prolific writer, poet, and scholar. It is also the launching point for the basecamp of Booni Zom (6,542m).
By the night, we sat outside to see the full moon leaving the nest of the jagged mountain to the east above Shandur on a clear sky. The scene was stunning. It kicked alive the lunatic in us. This closeness to nature always touches the right cord of creativity and inventiveness. It purifies emotions and detaches from the tricky way of life that befuddles the soul.
During our stay here, we charged our Power Banks, Cameras, and Mobiles before going to sleep in an anticipation of a spectacular trek the next day.
Day—2: Wednesday, August 25, 2021: Trekking from Laspur to Bashqar Lake
Started trekking from Balim at 03:30 AM. Crossed the bridge to Sor Laspur on the left, kept walking on the lower (southern) fringe of the village to enter the Bashqar Gol. Walked through a beautiful polo pitch named 'Shahi Jinali'.
Laspur valley has some of the good polo players. Freestyle polo here, like the rest of the Chitral valleys, is a passion for both young, and old people. There are dozens of horses, and polo matches are organized in Harchin, and Sor Laspur. Still another polo pitch is in village Balim as well. For tourists, horse riding is the major entertainment here.
Across the trek, we met many people from Laspur, who are on the pastureland to take care of livestock, collect fuelwood and fodder for winter. In one place we saw a half-eaten carcass of a goat. Upon inquiry, one person informed us that in Bashqar Gol there is a fierce pack of 12 wolves. They keep on killing the livestock. To keep the beasts from destroying the animals, villagers go to the pasture turn by turn to protect their livestock.
Bashqar Gol is one of the socio-ecologically important watersheds of Laspur valley in Chitral district, Khyber Pukhtunkhwa. The valley having a border with Swat, Gilgit Baltistan, Madaklasht, and Golain valley of Chitral. The ridges of this mountainous region are steep, rugged, mostly scree, and form three wide and open valleys, each with an icy-cold fast running stream. There are three natural lakes in Bashqar Gol that act as the water reservoir for the downstream watershed communities and also provide safe passage for the migratory birds passing through this valley every year.
It has rich wildlife resources including Himalayan Ibex (Capra Ibex), Snow Leopard (Uncia uncia), Brown Bear (Ursus arctos), Himalayan Lynx (Lynx lynx isabellinus), Pallas Fishing Cat (Felis manual), Fox (Vulpes vulpes), Wolf (Canis lupus) and Jackal (Canis aureus). The avifauna of the area is unique and diverse. A total of 19 species of birds belong to 13 families were recorded, out of which 08 are insectivores, 04 are omnivores, 03 carnivores, 02 granivores, and 02 herbivores.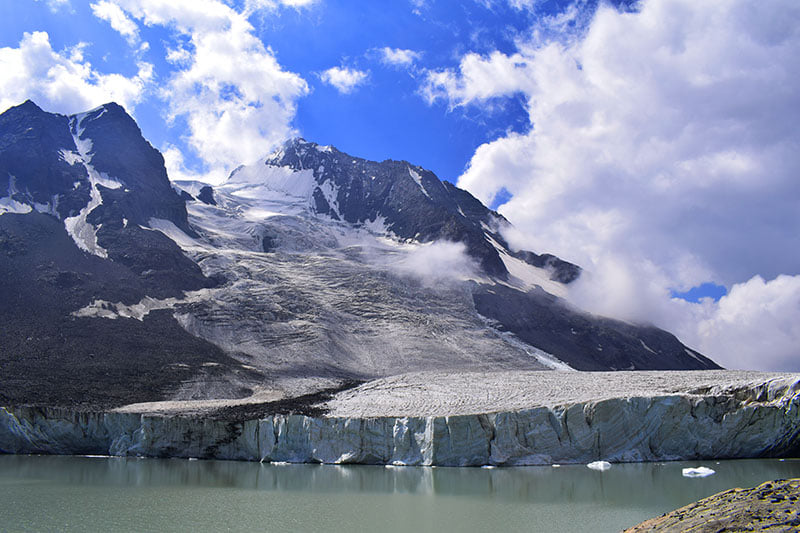 It has a variety of vegetation and plants such as Willow (Salix acmophylla), Salix tetrasperma, Himalayan Birch (Betula utilis), Poplar (Populus ciliate), and Sea Buck Thorn (Hippophae rhamnoides) besides many of the alpine flowers.
We walked up Nalgah (2914m), Noghabad (3911m), Soobar (3027m) before reaching Kachikhani nullah (3052m) by 08:00 AM. The trek from this valley to the east leads to the Mahodan Lake of Swat, and it takes around 6 days to get there. Here we had to ford an icy cold stream coming from the Kachikhani glacier. It severely numbed our feet and legs. We prepared our breakfast after crossing the stream and left by 10:00 AM for our next destination. By the next year, I am looking forward to doing the Katchkhani trek to Mahodan Lake.
We reached Ghondoisht (3305m) by 10:54 AM and walked up along the Bashqar Gol river with Garik Ghari (3243m) to our west. We saw people there harvesting barley crops. We were informed that the crop is organic because they only use organic manure for the crop and avoid chemical fertilizer. Lucky are those who consume the bread of organic barley flour. It is so organic and natural.
The trek beyond this point was strewn with heavy boulders also involving nose-touching steeps, which slowed down our tempo. At Pindoro Coch (3401m), a place with cold spring and birch forest, we came across three people from Lahore trekking down to Laspur. At this place, we prepared our lunch of noodles and tea before departing for Bashqar Lake by 02:30 PM. Beyond this place, the scenic beauties started to unfold, and we did a great deal of photography. From this place, we saw the glaciated pass to the west that opens into Golain valley. We reached Bashqar Lake (3569m) by 05:30 AM after 13 hours of trekking. Pitched our tent amidst the forest with abundant dried twigs all around. We saw giant yaks here. They frightened us by hissing and grumbling nearby our tent. It was a windy night but inside the tent, it was not as cold as we had anticipated earlier. Since the capacity of the tent was limited to put our rucksack inside, so we strung our bags and shoes on the branches of a high birch tree to keep the nocturnal animals (fox and wolves) from stealing our properties, especially shoes.
We got up at 05:00 AM, prepared our breakfast, and took some pictures of the lake before embarking on our travel for the next stage by 06:17 AM.
Day—3: Thursday, August 26, 2021: Trekking from Bashqar Lake to Zhoki Lake
The route beyond Bashqar Gol Lake is smooth and we walked along with green and plain pastures. We reached Chato Warz (the end of the lake) by 08:00 AM. Here to the east opens the Manial Stream that leads to Gabral in the Swat valley after crossing the Manial Pass and Glacier. Here again, we had to wade through an icy cold stream to get to the right side of the trek. We reached Biti Mol (3570m), which is an ideal camping site for trekkers. It is an oasis rich in flora and vegetation. Here we met Rehmat, a nomad from Shoghor Gol, Chitral. He made us tea and we took boiled goat milk and cheese from him to supplement our nutritional requirement during the trek. He informed us that it took 41 days for him and his family to reach here traveling via Mastuj side. He has goats, livestock, and horses with him, which he requires to move his family members and luggage.
We left Biti Moli by 09:45 AM to walk along with a smooth trek of the Mikamaro Shotar (3623m) and reached Shoti Char (3708m), where we cooked our lunch. This place is rich in fuelwood, and we had abundant of that in the surrounding. After taking lunch and tea, we collected and carried some of the dried twigs for cooking purposes at Zhoki Lake as we had come to know through our research that fuelwood would not be available at the lake. As we walked up further, we saw a beautiful waterfall to the west above the main trekking route. We went up near the waterfall, took some good pictures. The surrounding of the waterfall is green, and we found some unique flora there.
We reached Zhoki Lake (4146m) and chanced upon meeting a group of 12 trekkers from the KP who were on the third day into their trekking from Gok Shai (3730m) at Kumrat side. Mr. Farnood Alam, a reputed columnist, writer, naturalist, and trekker was one of the group members with whom we had familiarity during his visit to Booni this summer. He was happy to see us and so were we. We camped near each other, made a bonfire at night, and chatted before going to sleep.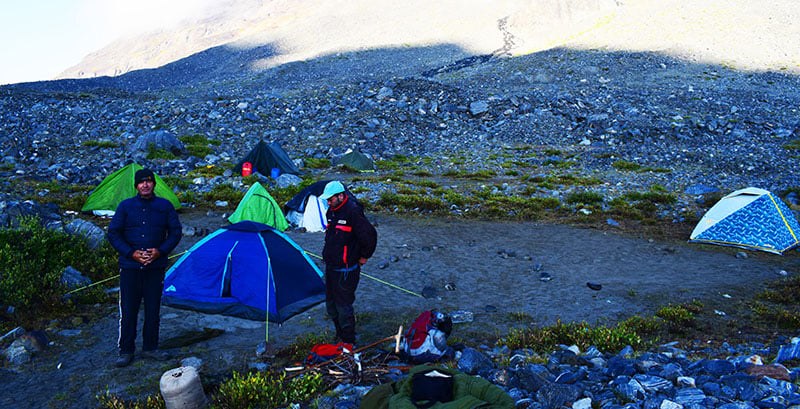 Day— 4: Friday, August 27, 2021: Trekking from Zhoki Lake to Dojanga
We left Zhoki Lake (4146m) by 06:00 AM. The trek is not steep, but one has to be careful whilst walking over glaciated boulders. At one point before reaching the glacier, we had to cook our breakfast before resuming the trek again. We reached the furthest point of the Laspur pasture, where two huge yaks were grazing. We reached a lake surrounded by the glacier. Took considerable pictures here and moved on further. The glacier is eroding, and we found big pieces of ice floating in the lake. We also heard cracking sounds of glacier erosion in most of the places. There is no doubt that the prospect of global warming has badly impacted the glacier in this remote part of the world, and the glaciers are shrinking at an alarming rate. The altitude of this glacier and lake is 4080m. After traveling for a while, we reached the maximum height of our trek, which was 4229m, before starting to descend to Thallu Pass (4128m). At the pass, there is another small lake the water source of which flows onto the Kumrat side. To the left of the pass, there is a hanging glacier from which originates the stream flowing onto the Shahzore Lake (3370m) below. The route from the pass is downhill but not difficult. It passes through a narrow gorge of two mountains. On the route, we saw a diverse array of wildflowers (please see pictures) and the landscape was stunning. From the pass, we reached the flat land above Shahzore Lake at an altitude of 3517m in one hour. At this altitude, we saw Himalayan Birch, which is healthier (single-stemmed, and straight) compared to the birch on the Bashqar Gol side, which is bushy and small. It might be the differences in the fertility of land and climatic conditions. Here we also saw Hoopoe, Alpine Chough, Crows, and Wagtail.
We reached Gor Shai (3028m), which is pastureland, and saw a person tending livestock up there. We chatted with him about the route, and he informed us that we could reach Dojanga (2602) by 06:30 PM. For overnight, we reached the camping site at Dojanga by 07:00 PM. Had dinner and slept as early as we could because we were very much tired.
Day—5: Saturday, August 28, 2021: Trekking from Dojanga to Thaal, the Finishing Point of the Trek
Got up at 05:00 AM, packed our tents, had breakfast of parata and tea, and started trekking down one of the beautiful landscapes we have had ever seen in our life.
With its crystal-clear stream, dense green forest of cedar, pine, maple, and walnut trees, the valley is a heaven for tourists, adventurists, and trekkers. The landscape mesmerized us at every step.
Fortunately, the meadows are still beautiful here despite the rampant and ruthless commercialization that it has had started here quite recently. The construction is completely unplanned and the colors of tourist infrastructures/hotels and the makeshift camping spots are totally unregulated with minimum respect for nature.
We reached Kala Chashma (2433m) by 08:00 AM and took cold water here and traveled to Butooth (2372m) and had a cup of tea there. It is a hotel facility cum camping site. After this place, we saw many of the villagers in the farm harvesting potato crops and found sack after sack of potato stacked on the roadside waiting to be transported. From here down, the valley opens up making the landscape more photogenic. We reached Kot Gel (2325m) and charged our mobiles for which we had to pay. This place, too, is a beautiful camping site, but the haphazard construction of hotel facilities and camping sites seems to have robbed the natural beauty of the area.
Kumrat valley is one of the most beautiful and unexplored parts of Khyber Pakhtunkhwa, Unfortunately, it is fast becoming a victim of rampant commercialization, and this is the time when the government should enforce a strict standard of development and sound waste disposal system in the valley. Involvement of Local Government in these areas with some additional funds and resources to help in waste disposal/management will be of enormous value.
We reached Thall (2050m) by 02:30 PM. It is the headquarter of the Thall tehsil of district Upper Dir. From this place, we hired a car for Upper Dir and from there hired another car. We reached Chitral by 09:00 PM in the night.
This trek is one of the most beautiful treks I have ever seen. Nature lovers, adventurists, and explorers must do this trek at least once in their life.
Day-wise information about the trek from Kumrat side:
1) Day One: Dojanga to Gok Shai for Overnight Camping
2) Day Two: Gok Shai to Shahzore Lake for Overnight Camping
3) Day Three: Shazore Lake to Thallu Pass for Overnight Camping
4) Day Four: Thallu Pass to Zhoki Lake for Overnight Camping
5) Day Five: Zhoki Lake to Bashqar Lake for Overnight Camping
6) Day Six: Bashqar Lake to Sor Laspur for Overnight Camping
Tips for the trekkers, adventurists, and nature lovers trekking along this beautiful route:
– It is a 6-day trek, so never try to complete it in less than the standard trekking schedule. It may affect your physique, besides you won't be able to enjoy the trek in unnecessary haste.
– Take a good guide to lead you on the right route and save time and energy. Otherwise, there are chances of taking the wrong routes, which might lead to wastage of time and energy.
– Take tent(s), sleeping bag and a good camera along with mobile and Power Bank. Otherwise, you will miss taking pictures of the stunning natural beauties along the route.
– Two good metal sticks are necessary. I would prefer the homemade light stick, which is greatly helpful in wading through streams, and you can conveniently rely on it whilst trekking downhill or screes on the route.
– Must ensure you have good quality shoes with strong grips. Take care of your shoes on each campsite. Protect them against nocturnal animals such as jackals, foxes, and wolves. If you will lose your shoes or miss them whilst fording the stream, then you will be completely stuck. You will simply go nowhere without shoes.
– Nights are considerably cold if you organized the trek after August, so you must have warm clothing, a coat, and caps.
– Cooking is more challenging at high altitudes. From Thallu Pass to Mikimaro Shotar, you will not find fuelwood. So, whilst coming from Kumrat site, bring fuelwood with you for cooking purposes at Thallu Pass and Zhoki Lake.
– Water is available on the route everywhere, so you will not face any problem in finding water for cooking and drinking.
– Please be careful about committing garbage. Each member of a trekking group must ensure to be responsible for his/her garbage. Keep in your bag whatever garbage you produce. Please take them to burry amongst the boulders, which is a non-productive soil. In case you will burn it, it will release hazardous gas into the environment.
Lastly, the government of the Khyber Pakhtunkhwa is requested to protect the natural beauty of the heavenly Kumrat valley by fully regulating tourism. For this purpose, it would be important to focus on promoting environmental-friendly infrastructure in the valley, putting in place an effective waste disposal mechanism besides launching a sensitization program for the tourists, trekkers, and nature lovers visiting the valley.  .. Via 'Pride of Chitral' 01 Sep 2021