CHITRAL: After the easing of COVID-19 restrictions, people who had been restricted to their houses have started to go out for recreational spots and areas with a zeal almost like vengeance. The areas of district Swat , Kaghan, Naran,Gilgit, Skardu a, Hunza etc are brimming with tourists while Chitral seems relatively empty of visitors (except official visitors). Skardu is being served with additional flights of wide bodied areas.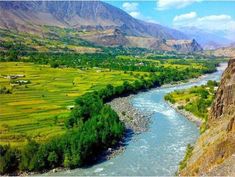 The main reason for tourists showing less interest in Chitral is the condition of roads here. The main attraction of Chitral, the Kalash valley has the worst of roads and tourists venturing there vow not to return or recommend to others. Even some Kalash and conservationists are skeptic about the valley having a good road as they feel they will be overrun by and uncouth and unruly tourists from down country.
It is time that road repairs be taken seriously. Even the Lowari tunnel which was inaugurated by the Prime minister in July 2017, is still in an incomplete state and travelers are made to wait outside the tunnel on the pretext of "work going inside the tunnel". With such being the condition of road and the state of governance in Chitral, why would tourists choose it over Murree, Swat, Hunza and Skardu. .. CN report, 15 Sep 2020.