Three large passenger planes with tourists land at Skardu simultaneously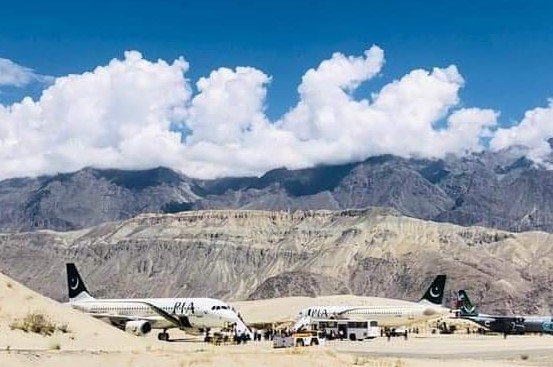 CHITRAL: Three Airbus passenger planes laden with tourists have landed at Skardu airport as a first time.
The government's boost to tourism coupled with the PIA starting direct flights from Karachi to Skardu has brought about the change. Domestic tourism has taken off with after burners after the Covid lockdown. The KP govt has issued figures which are encouraging. According to them, 627995 tourists visited the province of which 356400 reached Swat, 65350 visited Mansehra, 9800 tourists reached lower Chitral and 3460 visited tourist points in Lower Dir.
Although Chitral has the unique advantage of being home to the ancient Kalash tribe in three beautiful valleys and it has the highest polo ground hosting the ancient free style game of polo, beside having a hospitable people, but visitors to Chitral are often turned off due to the pathetic condition of roads and the holding up of of travelers at the Lowari tunnel without any reason. Chitral also needs more organised tourist facilities so that domestic tourists choose it as as their first priority when deciding to take a tour of Pakistan. .. Courtesy: seepakistantours.com