PIA enhances flights to Chitral
CHITRAL: PIA flights to Chitral had virtually been halted as the once a week flight would often get cancelled due to one reason or the other and travellers had gotten used to travelling by road. The shortening of road due to Malakand tunnels and introduction of comfortable coach services to Chitral are also one reason why travellers had almost stopped looking towards air travel..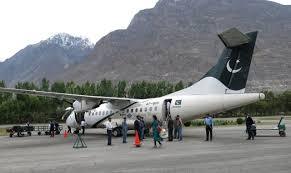 However the PIA has now announced to re-commence four weekly flights between Islamabad and Chitral on Sunday, Monday, Wednesday and Friday respectively, with effect from 3rd March 2021. This apparently is a big facility for travelers and tourists, particularly female travellers, VIP visitors and foreign tourists.
However the success of air service from Islamabad to Chitral shall depend greatly upon its reliability as travellers have to travel one hour from Islamabad city to reach the airport, and they don't want to learn after reaching there that the flight has been delayed and/or cancelled for reasons bla bla bla,. During this much time travellers by road can almost reach Timergara. Therefore, the onus of responsibility of success of the service depends on the airline more than the travelers. .. CN report, 16 Feb 2021