CHITRAL: The biggest problem, rather the mother of most problems in our society is that speaking truth has been greatly trivialized in our every day lives. Telling lies with impunity has become a norm and openly accepted, let alone be admonished.
The curse of telling lies has been chastised in all societies, religions, beliefs and faiths, since the advent of civilization. Islam strictly censures the act of telling lies and the Holy Quran clearly dictates it as "laanat ullah alal kazibeen" (Curse of Allah on those who lie).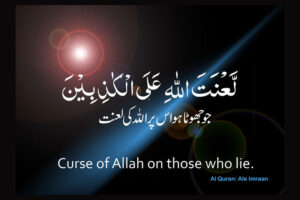 Our Holy Prophet (PBUH) was known for his character trait of being honest and trustworthy (Sadiq and Ameen) right since his birth, much before being bestowed prophet hood at age 40. Being truthful is the biggest sunna of the Holy Prophet (PBUH) but religious preachers are tightlipped about it, while stressing on other sunnahs like keeping beard, dress code etc.
As we see that telling lies has become almost accepted in the society, why would any one care to speak the truth which is usually bitter. The responsibility of preaching truth lies with parents, teachers elders and most of all with religious preachers from whom all the above three categories get (or are supposed to get) their lessons in morality.
As no efforts are being made to stop lies and promote truth in the society, a movement by those who feel it, needs be launched to counter falsehood in everyday affairs of our lives.
If movements for 'restoration of democracy', movement for 'reconciliation', movement for human rights, movement for animal rights etc can be launched and if foundations for health, education, development works can be set up, why can't a movement for censuring lies and encouraging truth in the society be launched and worked upon.
If telling lies is arrested, ninety percent of our problems will be solved, be they economic, political, or every day social matters. .. CN report, 06 June 2023