Kalash festival Pholar celebrated in Birir valley
CHITRAL: Annual Autumn Kalash festival Pholarh , also pronounce Phool, Pul,  was celebrated in Birir valley. The festival is celebrated only in the aforementioned amongst the three kalash valley. Special Assistant to Chief Minister Wazirzada who himself belongs to the Kalash community along with RPO Malakand region Ghafoor Afridi and other guests and tourists attended the festival.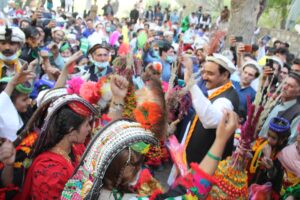 The main highlights of the festival are harvesting walnut produce, serving grapes of the season to guests and formally baptising 10 year old Kalash girls into the community by offering them Kalash robes and headgears.
Visiting tourists including foreigners appreciated the festival but lamented the pathetic state of roads in Chitral district particularly the road going to the Kalash valleys and asked the government to pay attention to this crucial aspect of tourism development. .. G.H Farooqi, 16 Oct 2021