CHITRAL: Addressing a press conference in Chitral, the Provincial Gen Secy of Jamiat Ulema Islam Molana Ataul Haq Darwesh expressed his and his colleagues's reservations about the proposed setting up of a Medical Diagnostic Center by the Agha Khan Health foundation and a Serena hotel in Chitral town.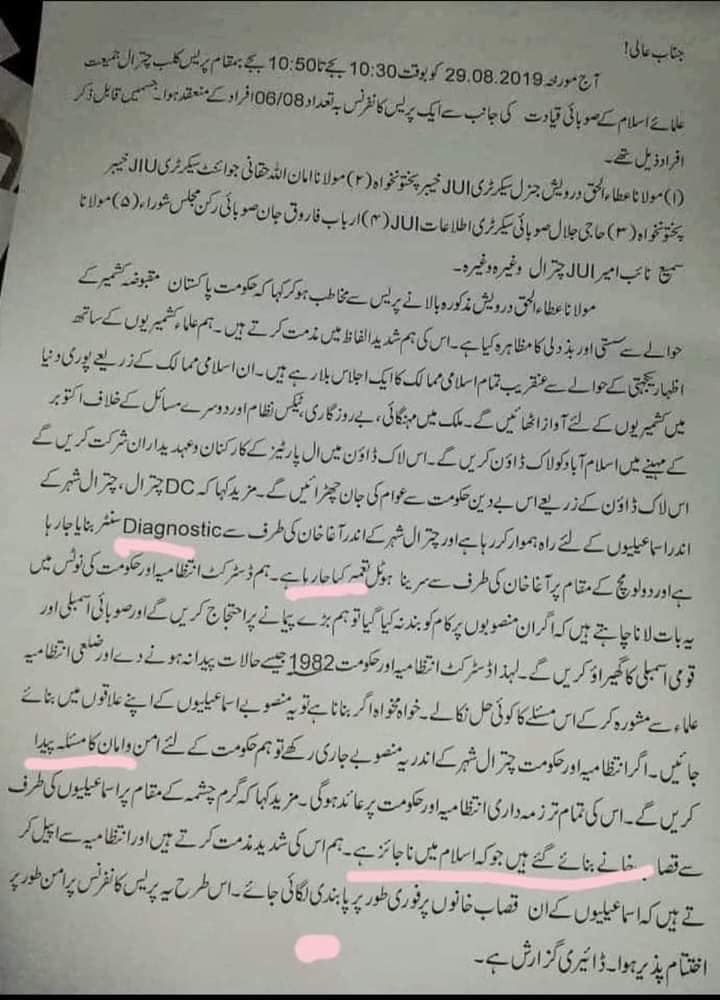 The Cleric said that they would not allow any such development in Chitral town unless they are taken in confidence about it. They said the Hotel and diagnostic center should be established in an area which has Ismaili majority population. He said that if the plan was carried ahead they would protest and besiege the Provincial and National Assembly. He warned the district administration not to create situation like what happened in 198, by allowing these developments to happen and should consult the local religious leaders on all such matters. He also objected to the allowance of opening slaughter houses by Ismalies in Garam Chashma and demanded their closure.
JUI leaders oppose setting up Ladies exclusive Shopping Market
The Cleric also castigated the government for inaction in the Kashmir dispute matter and expressed full support to the Kashmir cause. Other provincial and local JUI leaders were also present at the press conference. .. CN report, 31 Aug 2019.