.. by Khalid Pervaiz
The tragic demise of our beloved Khalid Bin Wali on 20th?October 2018 in a road accident near Mardan left the entire Chitrali community in a state of profound shock and dejection.? His untimely death created a void that cannot be filled for centuries to come. The magnitude of this tragic loss jolted not only his family and friends, but the entire Chitral felt the shockwaves of the tragedy. A thick cloud of gloom and dejection hung over Chitral the moment the news of his sudden death hit like a bolt from the blue.? Nature herself seemed to mourn the death of Khalid Bin Wali.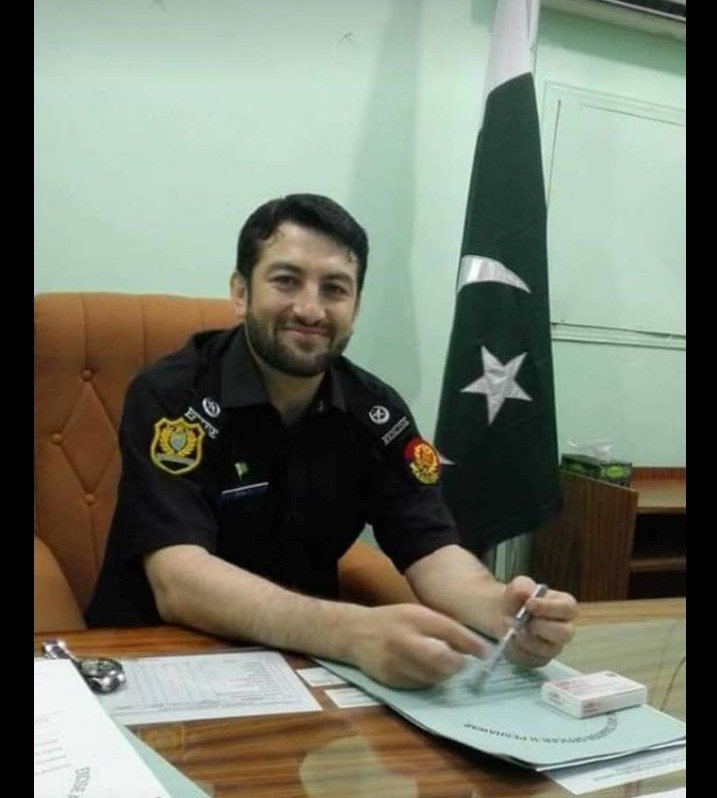 The love that he had implanted in the hearts of the people of Chitral was demonstrated in the form of a huge procession that followed his coffin to the polo ground where his last funeral rites were to be performed. His moral probity and uprightness of character attracted thousands of his acquaintances and friends who attended his funeral and laid him to rest amid sobs and tears.? His life span can rightly be summed up in one line: He came, he conquered and he left. And he conquered the hearts of the people by virtue of his graceful demeanor, cool temperament and humble nature.
During his brief life span, he achieved marvelous landmarks. To name a few, he published his masterpiece anthology of verses ?Hardian Ishtok? (playfulness of hearts) soon after he had graduated from Islamia College, Peshawar.? The magnum opus catapulted KBW into prominence in the literary circles overnight, but he was a larger-than-life character who remained unaffected by the fame that he achieved at the prime of age.
He was an avid reader and a creative genius. By dint of his hard work and intellect, he passed the competitive examinations for Provincial Management Services and Civil Judge ?cum- Judicial Magistrate consecutively, but eventually opted to serve in Customs as Excise and Taxation Officer. The successes that he achieved in quick succession did not turn his head and he always remained humble to the core.
KBW and I remained Classmates for two years in Islamia College Peshawar during 2001-03. He was a dear friend and a Hostel mate in ABM Hostel of the same College. During our stay in Islamia College, I found him a highly energetic, sincere, humane, audacious and a simply noble soul. He spread love and peace and despised arrogance, mutual grudges and avarice. The circle of his friends tremendously increased as he made friends with teachers and students alike. His hostel room was frequented by all and sundry to share light moments with him, and he would always hug everyone with a beaming smile on face.
It was during those days that he had to suffer the biggest tragedy of his life when he lost his loving mother whom he loved so dearly. His unflinching faith in the will of the Almighty encouraged him to bear the loss with patience and equanimity. In his brief lifetime, the Almighty passed KBW through innumerous tests of life but he came out of all the tests successful because he knew the truth that Allah always tests those who are dear to Him.
The worldly life is ephemeral and transitory. Those who devote their lives for the wellbeing of humanity and surrender in submission to the will of the Almighty are blessed with eternal bliss in the hereafter. The sea of people testified to this on the day of his burial that Khalid Bin Wali had all these attributes and prayed to the Almighty Allah for the eternal peace of his departed soul.
Our sympathies go out to the bereaved family of Khalid Bin Wali who are not alone in this hour of grief and sorrows. The entire Chitral community shares in the grief over the sad demise of this illustrious son of Chitral. Individuals of KBW?s caliber and stature are born once in millennia.? I am short for words to express my feelings of sorrows over the tragic loss.? Khalid Bin Wali will remain alive in our thoughts, prayers and memory for ever and his name will be imprinted in golden words in the annals of history for generations to come.? ?.. Khalid Pervaiz, Booni, Chitral 24 Oct 2018