CHITRAL: In a country where anyone who can mange puts pictures on the media of inaugurating everything they can lay their hands on. Recently there have been pictures of a politician cutting the ribbon in a 'ceremony' to put a lid on an open sewer manhole in Karachi. Similarly another politician standing on a big heap of garbage is smiling at the camera while handing over a mini Suzuki carry to the municipal committee for removal of the mountain of trash. These are not isolated events, but represent the mindset of the majority of politicians in the country.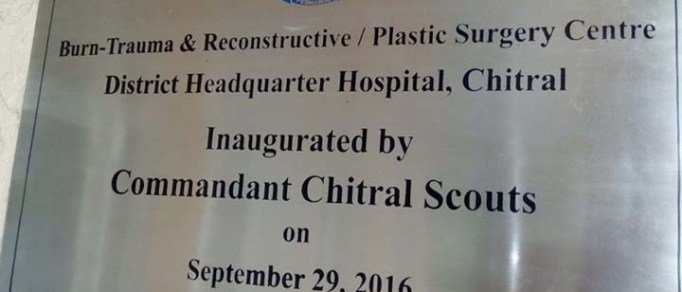 The reason why every one wants his name on an inaugural plaque is because Pakistan's political system is more dependent on individuals than institutions. No body trusts the institutions and go after individuals as long as 'their sun is shining'.
Some healthy examples of not giving importance to inaugural ceremonies and plaques have been set in Chitral in the past. The most gleaming one of them being the new chowni bridge which was built by the Japanese in a record time. However no body knows when they began the work and when they finished. One fine morning travelers were amazed to find that they could travel freely on the newly built bridge. There was no inaugural or opening ceremony – there was only work.
Similarly the plaque on the wall of the Burn and Trauma Center at the DHQ Hospital Chitral, carries no name, only the designation of the inaugurating guest, the Commandant Chitral Scouts.
The PTI govt trying to bring about petty reforms which are within it's powers, can do well to put a ban on writing the personal name of any dignitary laying a foundation stone, inaugurating or opening a project funded with public money. .. CN report, 12 Oct 2019