.. by Tariqullah Khan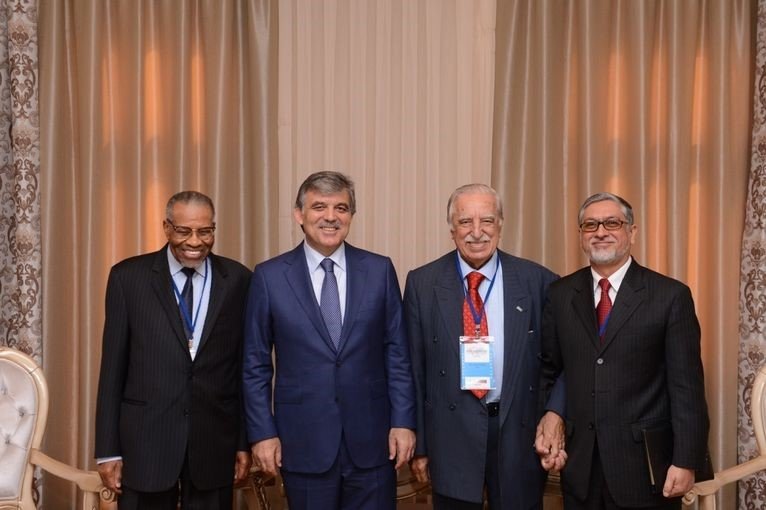 With President of Turkey H.E Abdullah Gul and other luminaries at a conference on Islamic economics and Finance
In July 1976 I had my MA Economics results in my hands and my dream was to become a university lecturer and later to be known as Prof. Dr. Tariqullah!? As a first step I entered the office of Professor Dr. Nazir who was the Chairman Department of Economics, Peshawar University. I was 21 years old but was actually looking 18 years because of the really tough work that I had to put into for getting a really good degree from the Department of Economics, University of Karachi that in those days was leading the economics education in the country. When I was in front of Professor Nazir hoping if he can ask me to sit, he started talking and in about one minute I was able to tell him ? I am from Chitral, I just got a position in my MA Economics and want to become a Lecturer. In the second minute he offered me adhoc lecturer position with the assurance to make it confirmed through proper channels shortly. His remarks were, ?I am not impressed from the Karachi University degrees, but I am impressed from the moral strength of the Chitrali people and that is why I am offering you this position?. As opposed to Professor Nazir for me my degree was most important and hence I apologized by thanking him and at the same time telling him politely that I need a job based on my degree and I left his room leaving him in a shock.
Within the same week I was called for an interview for a lecturer position by the Gomal University. My dear Lala late Dinar Alam Taj of Buni took me with him to D.I. Khan for an interview. I came to know after the interview that Nawab Allah Nawaz Khan the VC of Gomal University himself had chaired the interview. When I appeared in front of the interview committee the elderly person sitting in the middle of the group of people instead of talking to me addressed the other members asking them that the academic records of this child show that he is an able hard working person. Since he is from Chitral, it is for sure that from ethical and moral aspects he would be like the other Chitrali people. Therefore, I don?t feel the need to ask him many questions. I was again shocked as nobody was asking me any questions about my most important asset ? my MA Economics degree. I was told that I have got the job and I came out in maximum 2-3 minutes. Dinar Lala was also greatly surprised as those days many educated people were in fact facing difficulties in finding jobs. Within an hour I got the appointment letter in hand.
Looking back again to my days in Karachi during 1971-76 I remember many Chitralis in small private jobs which are often offered to trusted people. In fact those small jobs proved to be the basis for the educational support of many professionals now spread all over the world.
Last month I met a senior Pakistani banker and who made it a point that he has high appreciations for the moral and ethical values that Chitrali people upheld and therefore he never hesitates to recommend a Chitrali for a job.
It is not surprising that ethical values are valued high in the market place. It is however, a pleasant surprise that Chitrali?s as an ethnic group are known as genuine and credibly honest people. I consider this reputation as the most important asset embedded with being a Chitrali. However, there could be some spoiled eggs and it will be very unfortunate if such elements are allowed to cause erosion in the value of our most pivotal common asset. .. (courtesy Tariqullah Khan, extracted from 'facebook'),28 Jan 2018