by: GH Farooqi
CHITRAL:  High quality onion seeds of different colors and varieties is not only be supplied to both the districts of  Chitral and other parts of the country but its also being supplying to foreign countries.  There is an  organization in Chitral that produces  standard  quality seed of onion varieties and types  that are not only provided in Chitral and every corner of Pakistan, but also exporting  to the foreign countries too  from which Onion production is increasing greatly.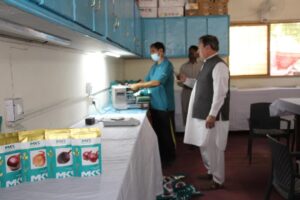 The onion seeds manufactured Mangus Kahl  seed are of such standard that this seed is exported to the countries outside Pakistan, which causing income generation for the  country. Magnus kahl seed  is properly  registered with the Federal Government Ministry of National Food Security and Research, with the Federal Seed Certification and Research (FSCR)  Department Islamabad.  Magnus seed was visited by  Muhammad Azam Khan Director General  Federal Seed Certification and Research Department along with his team of Islamabad and KP, expressed their great satisfaction on their production  and termed it very standard. Inspection team was comprising over  Nazar Iqbal Director Federal Seed Certification Islam Abad,  Inayatullah Regional Director Khyber Pakhtunkhwa and Dr Hayatullah Tareen Registrar FSCR.
The research team inspected different section and processes of  preparing and packing of  onion seeds in the company, which is  washing  after separating the seeds, then storing it after drying it at the appropriate temperature and  packing properly. The work is also of standard quality. Talking to the media, the inspection team  officers said that if some other companies dare to come in this field by preparing such standardized seed so we will be able to export seed of international standard and will save billion of rupees which spending on seed importing. It will be also a great source of income generation for our country.
According to Nazar  Iqbal Director Federal Seed Certification and Registrar Islamabad, if such institutions are encouraged, we can save billion of rupees  that we spend on importing  for these seeds from abroad.
Talking to the media, Sajjad Ali, general manager of Magnus Kahl Seed Chitral  said that we never compromise on quantities and quality.
There are 500 farmers  associated with this organization, including a  large numbers of women folk he added.  The company,  provides opportunity  to women  to earn a livelihood   in honor and respected way who supporting their children education etc.  Our target to declare Magnus seed the number one onion seed production company in the world Sajjad Ali added. As a result billions of rupees we are spending on importing of  seeds from overseas will be saved.