.. by Dr. Mir Baiz Khan
Today, August 14, 2023, is the 76th year of the independence of Pakistan. Chitral has been an integral part of the country from its very inception. Its geographical location is such that kept it isolated for a long time. Chitralis were left with no option except travel over the Lowari Pass losing precious human lives to the ferocious wind and avalanches every year in addition to the suffering of carrying sick and elderly over the treacherous pass. A great relief came when the Lowari Tunnel, starting in 1975 finally completed and opened for vehicular traffic in 2018. However, along with its benefits, the opening of the tunnel generated another challenge for the local population.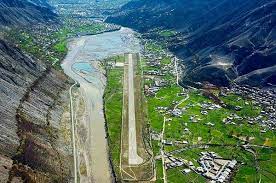 The Chitral Airport, since the mid-1960s, had been another mode of transportation. In times of need the number of flights was increased so that people could get their ailing family members to the health facilities in the cities for immediate attention. Since the tunnel opened, the attention of the authorities has shifted away from the Chitral Airport, leaving it in conditions where its future is uncertain, to say the least. Some years ago, there was talk of its expansion, whether genuine or rumor, it had given some hope that the airport, being located at the gateway to the heartland of Central Asia, can potentially be an international airport. Looking at the airport and its surrounding area today, it seems that the dream of it becoming a hub in the region and beyond has vanished. The authorities, it seems, have given up on the tremendous potential that the airport and its adjacent area have, particularly on the Chitral Riverside to generate economic activities and employment and small business opportunities for the people of Chitral as a whole.
On Independence Day, there was good news for the people of Gilgit-Baltistan. The first international flight from Dubai with 79 passengers landed at the Skardu International Airport. Heartfelt congratulations to the Gilgit-Baltistan leadership and the people of its five districts for this historical milestone of development. The flight deservedly received a water cannon welcome on its arrival. As Jamil Naqri writes in his article published in the Dawn of the reactions to the landing of this international flight as a historical moment, would open new possibilities, a great step towards promoting tourism and enhancing the region's connectivity, a momentous occasion, and will have a positive impact on the local economy. Pakistan's ambassador to UAE from where the flight originated praised the Ministry of Civil Aviation Authority and the Gilgit-Baltistan administration for their role.
The future of Chitral Airport seems bleak as its location conditions deteriorate and its flight frequency dwindles, and the local, provincial, and national authorities' indifference toward its improvement and revitalization continues. The apathy of the local leadership, be that political, social, community, or particular interest groups such as merchants, leisure industry organizations, lawyers, students, and others, is utterly discomforting. The devastating rise of the Chitral River and flooding of this year is a reminder that the direction of the river can shift at any time cutting away the narrow strip of land between the landing point of the Chitral Airport and the washed away area. If it happens, the airport will effectively be rendered useless. It is hoped that Chitralis collectively treat the matter seriously and will come up with a long-term plan to save the airport and reclaim the large area of land from the river to make it a citizens' leisure park. .. Dr Mir Baiz Khan, 15 Aug 2023