CHITRAL:? Building and maintenance of roads in mountainous areas has always been a difficult and expensive task. That is one reason why mountainous areas are always lagging behind in communication infrastructure and thus overall progress compared to the plains.
With the advancement of technology and techniques this need not be so now. The latest machines to excavate hills and drill tunnels are efficient and cost effective. We frequently watch on TV huge tunnels being dug in hours with state of the art drillers and excavators.
Pakistan has a rich mountainous area not only ideal for tourism but also filled with precious minerals and water resources. The one factor that hampers it's progress and prosperity is the absence of reliable road infrastructure..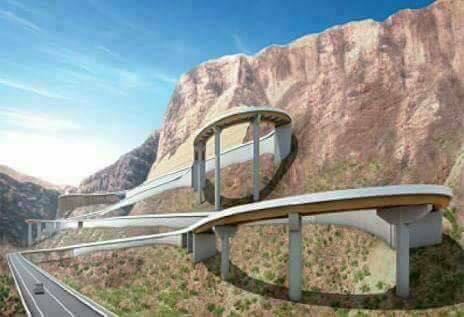 Taking the example of Chitral it has the Kalash valley's one of the most precious tourism treasure a country can posses. However the Kalash valleys perform far below their capacity to earn tourism revenue? due to the poor road infrastructure. A tourist visiting the area vows not to return due to the abject condition of roads.
Similarly. due to frequent landslides, floods, erosion, etc, roads are perpetually in a poor state and most of the budget of the district is eaten up in maintenance of these roads, which even after heavy expenditure are never satisfactory.
Using latest ideas and technology this problem can be overcome. Instead of carving the hills and fighting with the mountains and trying to make roads around them, multiple mini, micro and nano tunnels can be built at the bends of the hills, to not only shorten the distance by straightening out the road but also eliminate the recurring maintenance costs. The micro tunnels of a few hundred feet to a couple of thousand feet can be made easily and do not need maintenance like ventilation etc. One such example is at the Malakand pass, a nano tunnel made by the Britishers, at such a time when there were no appropriate tools and machinery.
If the road design from Chakdara to Chitral is made on these principles, the distance will be reduced by almost half, the travel would be comfortable (no bending and swerving all the time) and such a road would not need any or minimal maintenance. Similarly bridges over nullas and ridges can be of prefabricated steel bridges like the one just installed in DG Khan (Please Google it to know more about).
Technology and concepts have come a long way since road building began and we must use them, instead of relying on centuries old rudimentary methods and systems. .. CN report, 30 Aug 2019.