My Lord. Welcome to Chitral.
The construction of this road that you travelled on today had started when you were barely 15 years old. I was then twenty eight years old and about to get married. Today I am 73 and I dont see this road being completed in my life time.
I know that you are a passionate man who listens to his heart. You must have heard this road giving its own story tearfully to you. I dont need to say any more.
Look at the attached pictures please.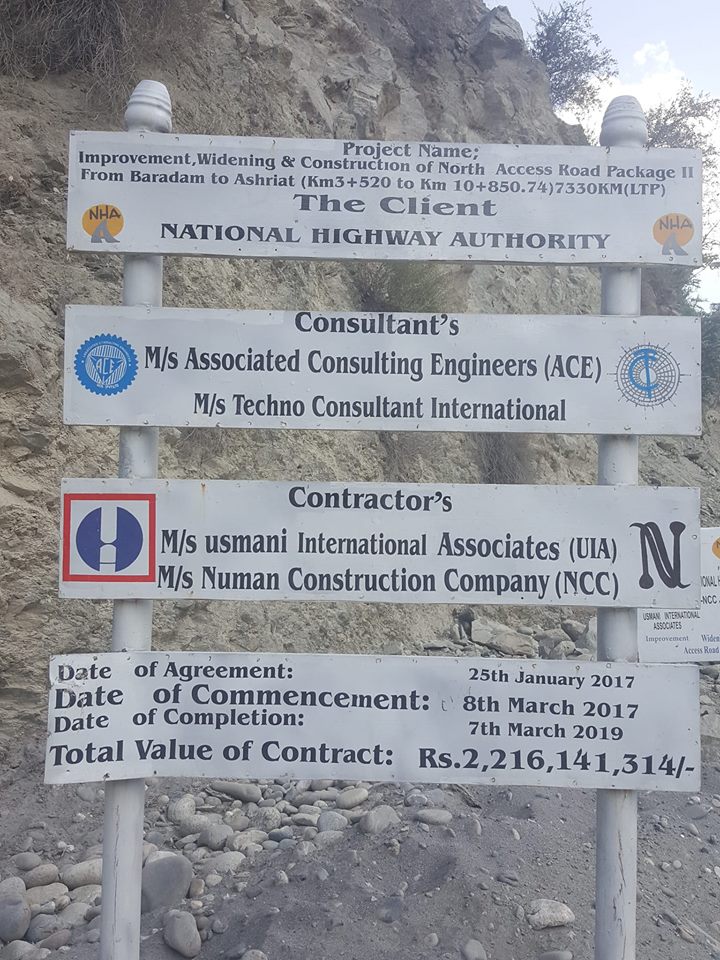 I can bet the Bhasha dam that this contractor will never be able to meet the date of completion written on that road sign so clearly. Over all these years we have seen many such dates written and not realized. I have photos of them.
Your lordship can also clearly see the date of the start of the current project. All that your lordship needs to do is to engage a construction firm of repute to assess the work done by the contractor in relation to the payment he has so far received for it.
This is the only road connecting us to the rest of our country so we have to use it quite often. We therefore need no expert to tell us that the Chitral side of this road is getting very little attention from the contractor. I travelled on this road today, like you did, and you must have observed that whereas a lot of construction activity is taking place on the Dir side of the road, there is very little activity on the Chitral side.
This road over the Lowari Pass told you its story but the thick jungle of Deodar trees that adorned the hill slopes along it will never be able to tell you their story. They are all dead. Ruthlessly chopped down illegally by selected contractors hand in glove with politicians and key government officials. But what you can do my lord is to save the few trees who are still clinging on to their life from the same " timber mafia" who continue their plunder without let. Please use your pen to once and for all impose a complete ban on cutting trees in any natural forest of Chitral. Otherwise the increasing silt in our river, caused mainly by this deforestation, will completely sult up the Warsak dam and consequently much of your gain from the Bhasha dam will be neutralized by the silting up in the Warsak ( and also Tarbela) dam.
When driving to Mastuj when you pass Booni you will suddenly interchange from an asphalt road to a dirt track. Prepare yourself for a shock my lord when they tell you that this dirt road on which you will be travelling for the next two hours is actually on paper an asphalt road! Yes, the contractor of this road has been paid for an asphalt road.
The shameless neglect of our district by all successive governments of the past will hit you in the face in every corner my lord. Please order a judicial inquiry to ascertain how and why the peace loving people of Chitral known for their sincerity and loyalty to Pakistan have been abandoned in such a way. .. Siraj Ulmulk, Hindukush Heights, Chitral 20 Sep 2018