With the election of PTI Chairman Imran Khan as Prime minister of Pakistan, Pakistan enters a new phase of 'hope again'.
Since the last many decades Pakistan has been ruled by mostly unscrupulous persons, some sponsored by the Military and bureaucracy while others rising to power riding on popular but hollow slogans like "so and so is alive", "so and so is not dead" etc, signifying nothing but effective enough in trapping the votes of the naive? majority, specially in rural areas.
The country which has ample wealth in natural resources has been brought to the brink of disaster by greedy and selfish rulers, whether they they did it through ruthless corruption, commissions, dirty IPO deals, shady defense procurements, busting the PIA,, steel mills, banks etc etc.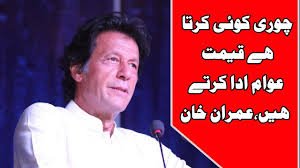 Imran Khan stands out from the erstwhile power seekers in that he gave a program for fundamental change in the governance system? and the need for reforms in many sectors. He even implemented some in the KP province under his rule. Though he failed to implement his manifesto with respect to Accountability in KP, but that he has admitted many a times and vowed to make amends for.. He at least brought the word 'corruption' and 'Accountability' back into the dictionary which had been deleted by our politicians. One minister of the PPP had once even said on TV that they held a right to indulge in corruption!.? He has been the first politician in Pakistan to worry about deforestation and environmental degradation. After his success in elections, he vowed to practice austerity, something which no other politician dare say even before elections let alone after winning.. Every way one looks at it, Imran Khan has come as a blessing from God and the nation can hope and pray he delivers. If there is some skepticism it? is understandable because this nation has been bitten time and again and therefore being shy is only natural. .. CN report, 17 Aug 2018.?