.. Shazia Mehboob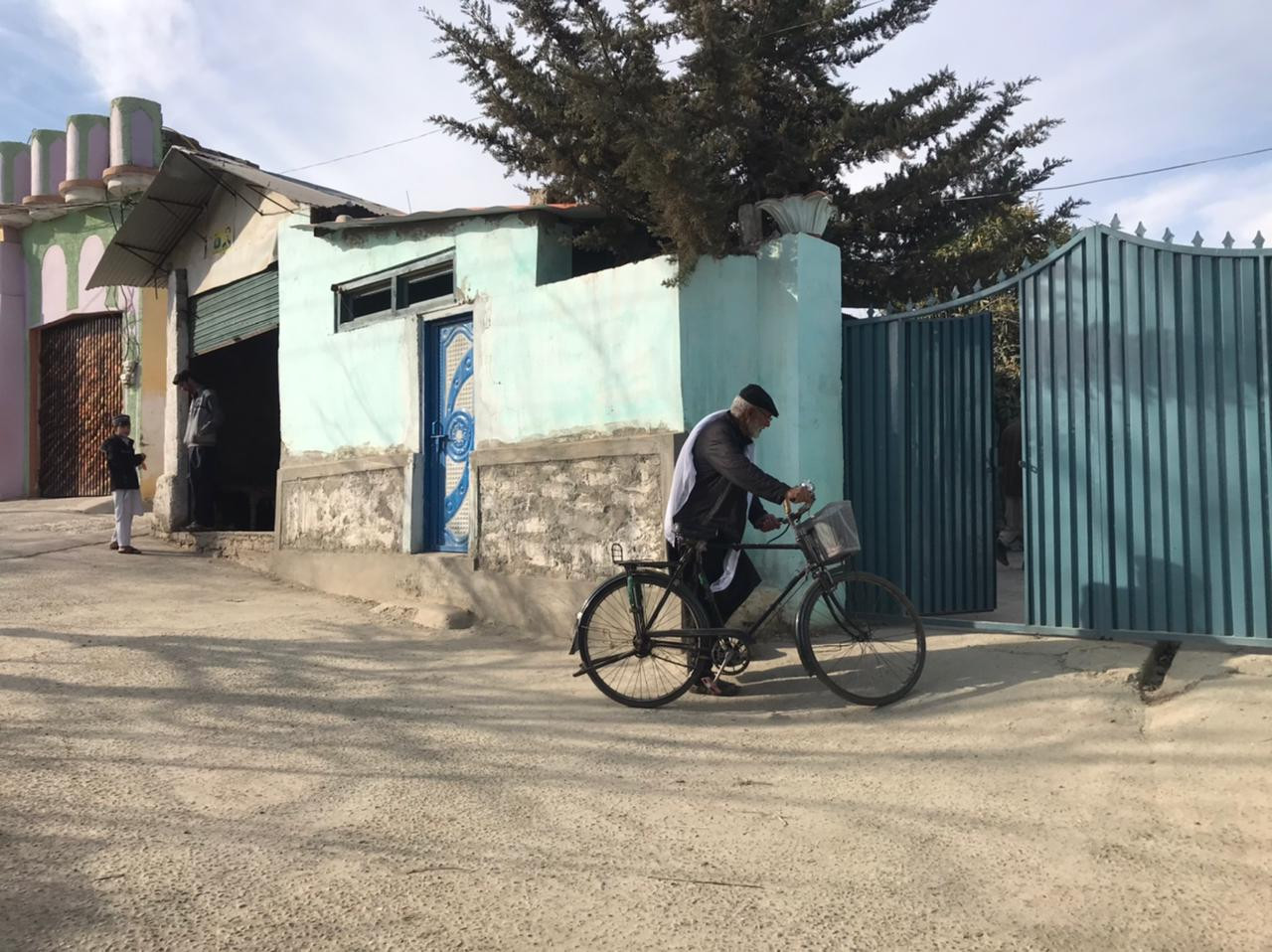 Beginnings of a journey
Qayyum's infatuation with cycling began in 1952, when he was as student in the seventh grade at a public school in Mingora. "It is definitely my first love," he said with a smile on his face. "To this day, I find the same joy riding a bicycle that I did when I was just a teenager. I fear if I stop, I will fall seriously ill!"
What was initially just a means to get to school, Qayyum turned it into a lifelong mode of transport. "With the passage of time, I started enjoying it so much that made my main means of going places," he said. "I've always been struck with some wanderlust, and it was that passion which convinced me to purchase my first bike from my drill master for just Rs150."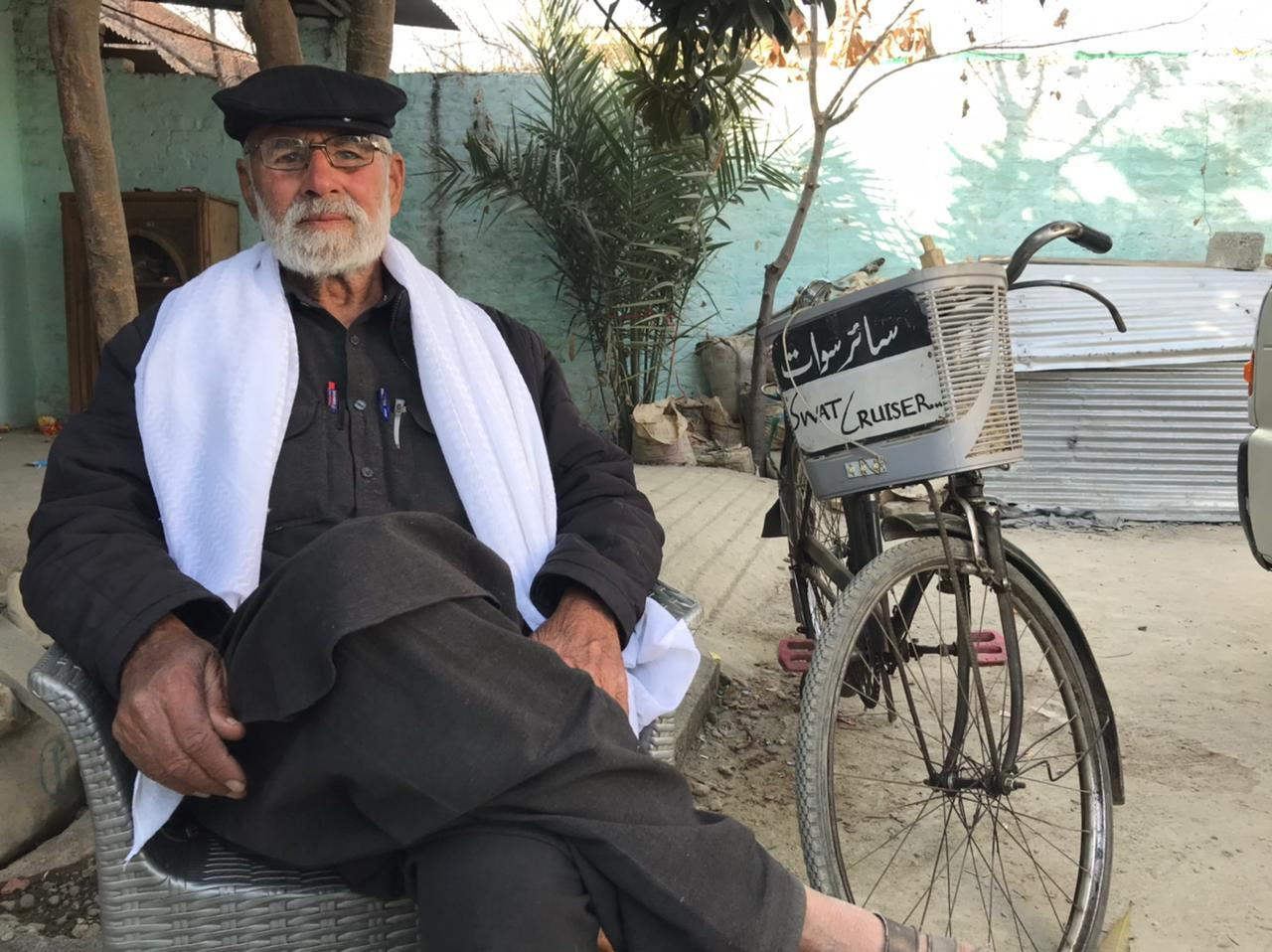 Since that fateful decision in 1952, Qayyum must have pedaled over thousands of miles. Yet, his passion and his stamina show no signs of letting up. He now owns three bicycles and has used them to make visits to far-flung areas of the region.
"We used to ask Baba for stop riding his bicycle, as many people in the area did not consider riding at his age good but whenever he stopped riding, he fell sick or suffered joint pain," said Palwasha, Qayyum's younger daughter.
Talking about his life's journey, he said after completing secondary education, he went to Karachi for higher education where he completed his Masters in Geography. After completing his studies, he opted for a government job but due to nepotism in the hiring process, he stopped gave up his search and went abroad. "Because Baba is a strong opponent of bribes and nepotism in the hiring process and believes in merit so he never applied for any government service," shared Palwasha.
Qayyum has three sons and two daughters and all are well educated and contributing to the country's economy in their profession. However, none of his children are pursuing the legacy of his father. "Baba often tells us that the job of salesmen or seaman was his passion as he loves living in deep waters but his father didn't allow him to join the navy or merchant navy," Palwasha added.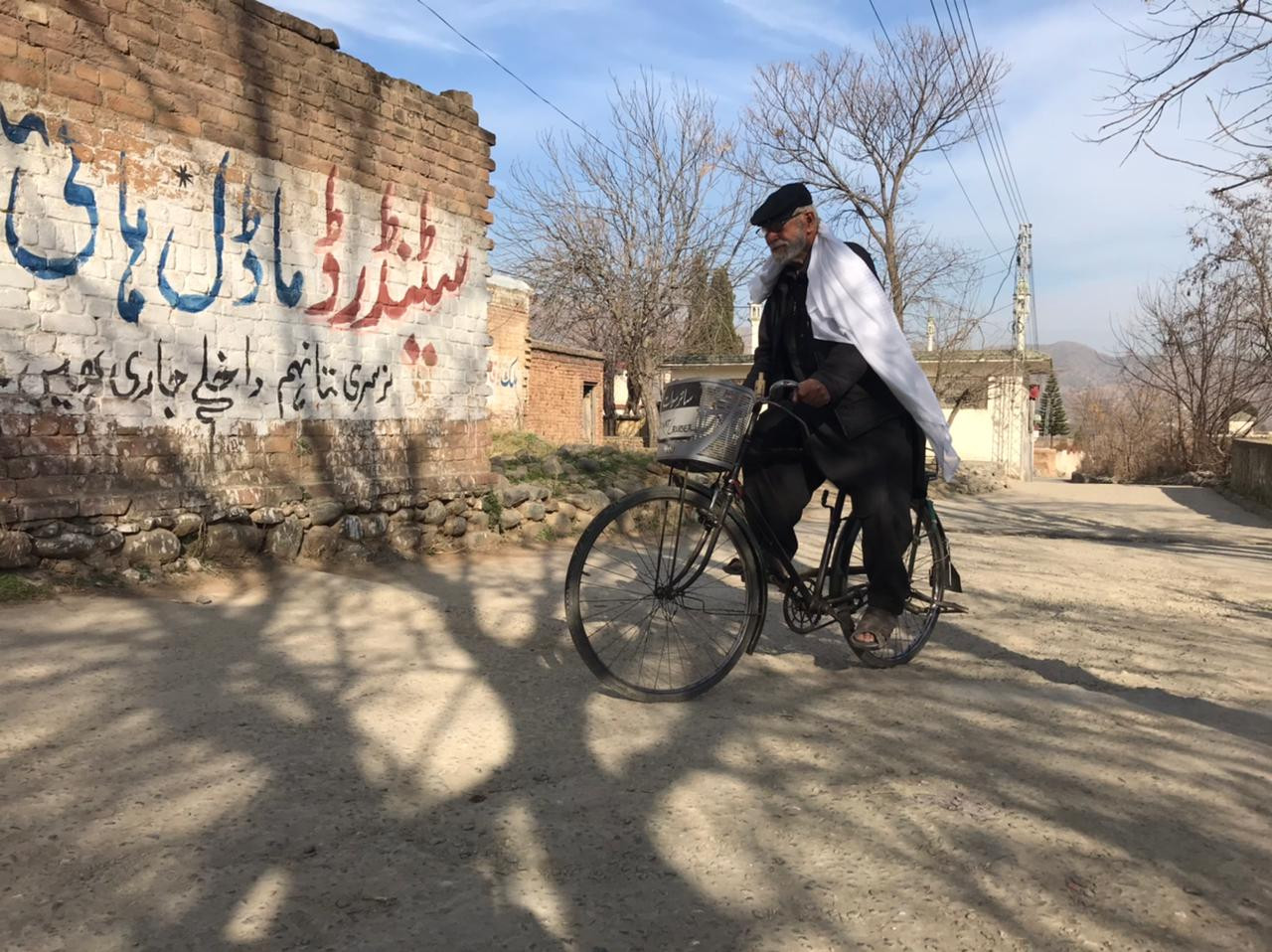 'Embodiment of eco-friendliness'
Due to his healthy lifestyle and eco-friendly passion, Qayyum not only holds aspirations for millions in Pakistan but people around the world. The local residents and people, in surrounding localities, who know well about his ecofriendly habit call him the 'brand ambassador of an eco-friendly environment and adventure tourism.'
Arif Ahmed from Mingora, Swat says Qayyum's lifestyle not only promotes an environment friendly lifestyle but also adventure tourism in the country. Abdul Qayyum's health lifestyle is a message for the masses not only in Pakistan but for the entire world of how one can promote an ecofriendly environment and reduce pollution in the environment.
"The extraordinary man by adopting this healthy lifestyle is also contributing his share into the reduction of global warming," Ahmed maintained. During a survey, people in the area have demanded the organisations and departments to select Abdul Qayuum as 'Brand Ambassador of Eco-Friendly Environment".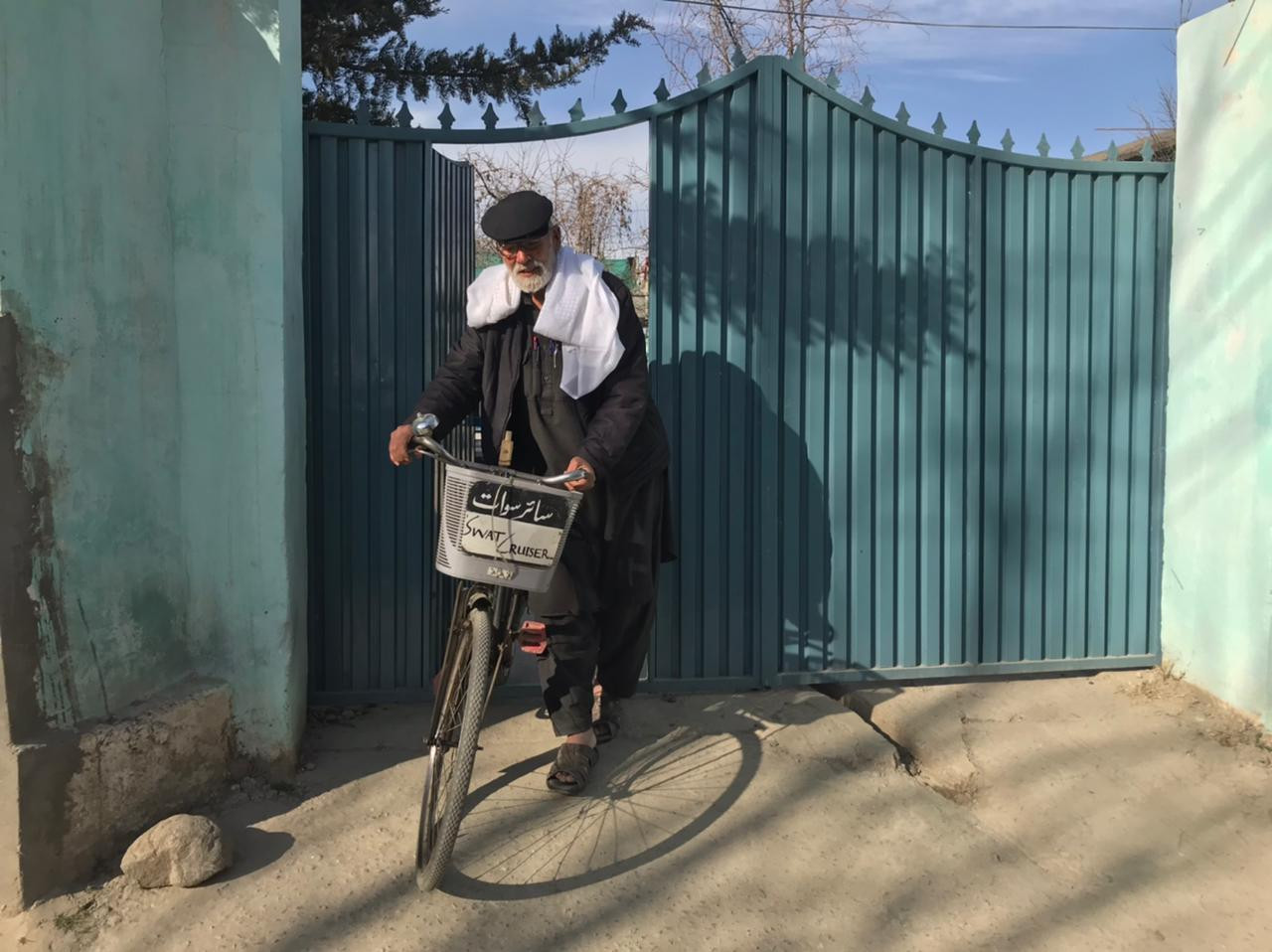 From Swat to Karachi
In 2018, Abdul Qayyum travelled to Karachi on his bicycle. The journey took about 20 days to reach from Swat to Karachi. Recalling his landmark visits to Karachi on bicycle, Baba Qayyum said that he was in 80s when he travelled to Karachi. "My journey from Swat to Karachi took 18 days and cost approximately Rs25,000," he said.
Besides, Qayyum is used to riding to different parts of KP on his bi-cycle. Travelling to Kohat and Peshawar on bi-cycle is his common practice, according to Qayyum's daughter. Local people, particularly youth don't appreciate Qayyum's mode of transport. He said local people, particularly children, when they see him riding, laugh at him. " 'See this old man riding bicycle,' they say."
The octogenarian man said that he had plenty of injuries during his ride to different areas, adding that on one occasion, "I still remember, I was bitten by a dog on foot and remained in hospital for many days."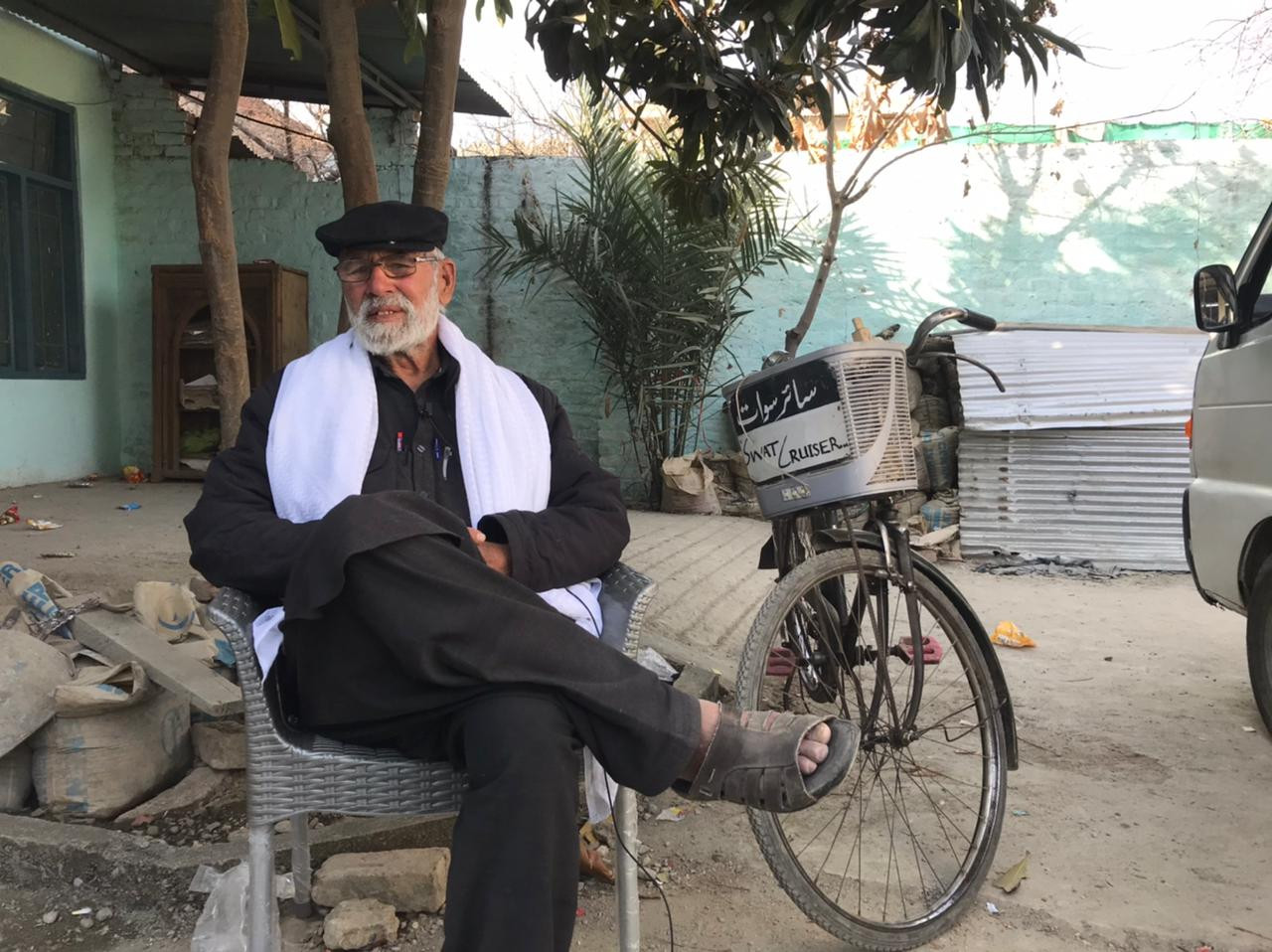 Worldy aspirations
"I have a strong wish to traverse across the world on my bicycle but my health is sound enough to make a world tour so not sure if my desire will be fulfilled or not," he said. "I don't know, God knows better about the secret to my good health. I've just ridden my bicycle since childhood and have always eaten simple food," he adds.
"My body structure doesn't conceive fat and if when it does sometimes, my riding habit burns all the fats and keeps me healthy and smart," he added. A favourite of qayyum's is begami rice, a local dish, along with yogurt and milk.
Baba Abdul Qayyum's interest is not restricted to bicycle riding, but he has also authored four books. Two of his written books titled Dastan-e-Swat (Tale of Swat) and Abraham Lincoln are in Urdu language and two others in Pashto and English respectively. His book "Dastan-e-Swat" is about the history, tradition and culture of Swat.
Qayyum was more interested in writing in English and also authored a book titled "The Charming Swat" but due to his lack of understanding of the English language, he reverted to writing in Urdu and Pashto.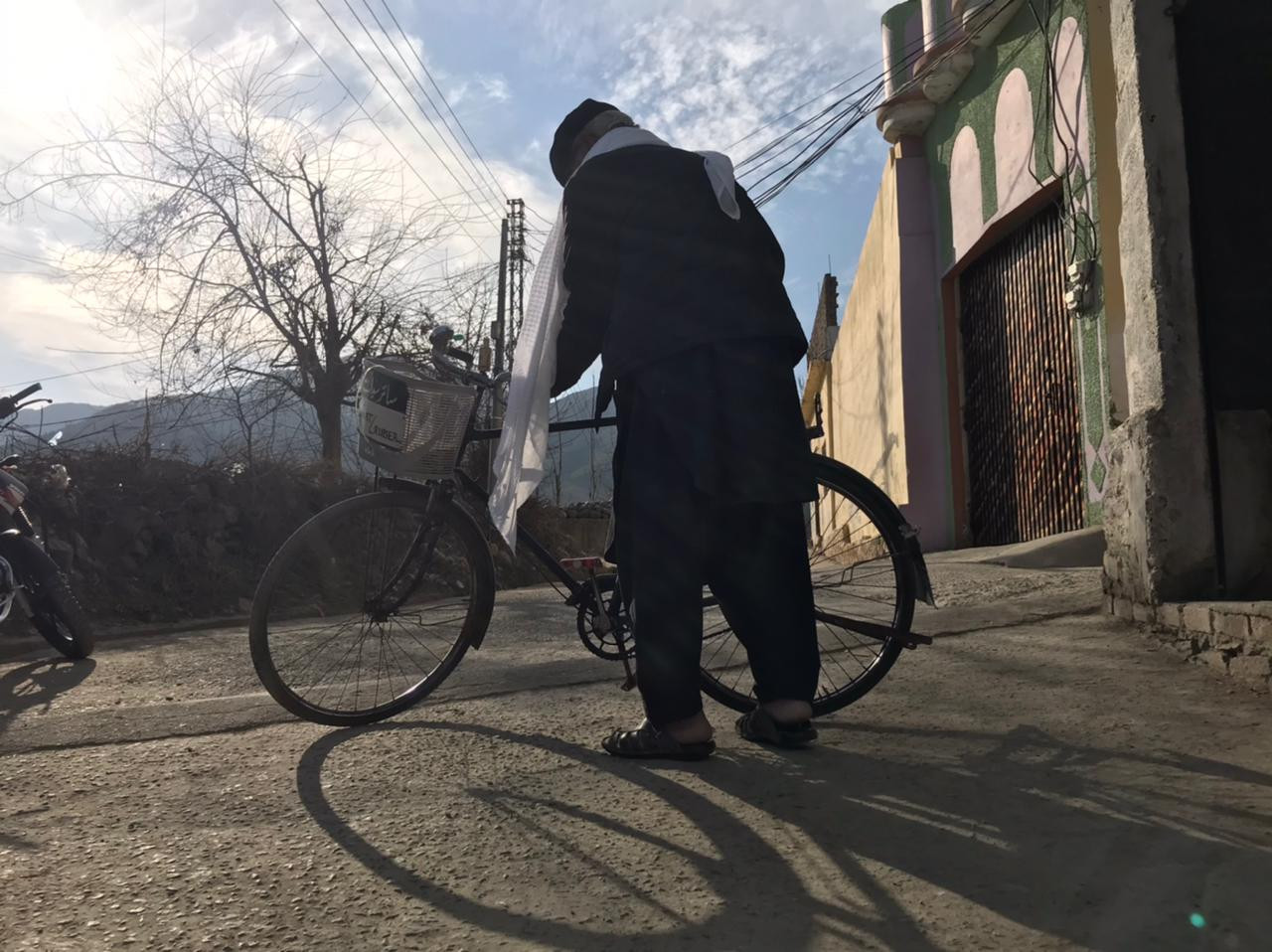 Whenever he gets free from his daily work, Qayyum also plays a melodic bansri and rabab for his family and to soothe his own soul.
"If we generalise the impact of eco-friendly ride, if being practiced at a mass level, its positive impacts can be witnessed at micro and macro levels, said Akbar Zeb," a Swat-based activist for an eco-friendly environment.
Referring to a study on pollution in Swat and its surrounding districts, Zeb said, "Mangora has a high rate of carbon-monoxide in the air as compared to Bannu and Swat, and to control the air pollution, use of eco-friendly transport is crucial. If the quantity of carbon-monoxide reaches 1% its life threatening," he added.
Terming Baba Abdul Qayyum ambassador of eco-friendly environment, he said, 'the government should make him the ambassador of an eco-friendly environment to acknowledge and recognise his life approach to promote a healthy lifestyle in the country."
Using China as an example, he said, "We can also get inspiration from China, where cycles are being used at mass level. China has built infrastructure for cycle riding."
In Mingora, roads are already over flowing with traffic and there is a need to establish a network of cycle tracks in the city to improve air pollution and reduce smoke emission in the environment.
The example of Abdul Qayyum can be an effective tool at community and national levels to not only create awareness among masses about the positive impact of cycling culture but it has economical impacts on the national economy as well.
There are two levels needed to make it work, community level for awareness and at government for advocacy.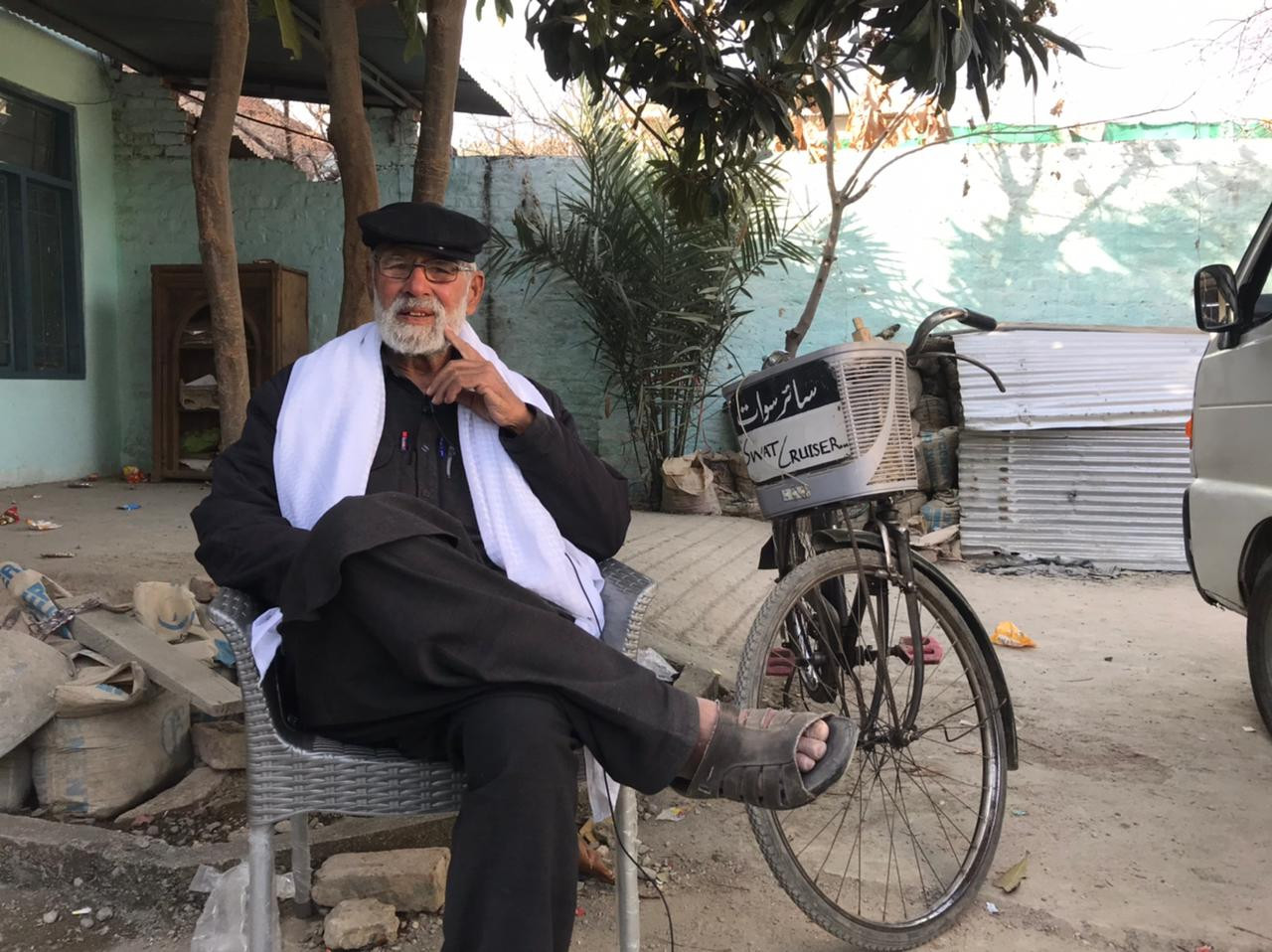 A case for cycling
According to the Global Climate Risk Index, according to its annual report for 2020, Pakistan is 5th on the list of countries most vulnerable to climate change.
The report states, Pakistan lost 9,989 lives, suffered economic losses worth $3.8 billion and witnessed 152 extreme weather events from 1999 to 2018.
According to Muhammad Nadeem, an environmentalist based in Islamabad, cycle riding is an eco-friendly practice and it can leave positive impacts on environmental warming. "If the state takes measures to promote a culture of cycle riding and builds cycle-friendly infrastructure at public and government offices," he adds.
"The government through encouraging public-private partnership can break the status quo," said Nadeem. "Otherwise, the society will not shift from easy mode transports to bicycle as bicycle riding isn't considered good and remains a mode of transport used only by marginalised communities."
"However, in hilly areas, cycles with modifications according to the requirement of region and local transport needs are what's needed," he further said. "The state-level eco-system's impact would be positive. The government's measures can bring this culture on our collective consciousnesses."
There are unlimited benefits of bicycle riding. It not only improves public health and reduces fuel expenses, leaving finances to invest in other sectors of life.
A large majority of people in the country spend a major chunk of income on health issues and many of our health-related expenses are because of our unhealthy lifestyle. In such situations, the culture of cycling can bring numerous benefits not only for the people but for the country's economy, said a Swat-based environmentalist Akbar Zeb.
Zeb, who is the CEO of Environmental Protection Society CEO, further added. "This culture will not only save our health-related expenditures in the prevailing situation of unemployment and inflation by improving public health but will also help reduce environmental warming – a growing risk for Pakistan," Zeb added.
Zeb has been working to create awareness among the public regarding the importance of an eco-friendly environment and its impact on the community, region, country and the world under his organisation's environmental protection society.
Talking about the impact of last year's lock down in the world, Zeb said that according to some studies, the damage to the ozone layer has begun repairing due to the reduction in flow of traffic on roads and closure of industry in the world.
"We [Pakistanis] are stuck in the hazards of inflation and unemployment, which has hampered our already deteriorated national economy. The Covid-19 pandemic and impacts of climate change have further added to the state's vulnerability," he said. .. Source