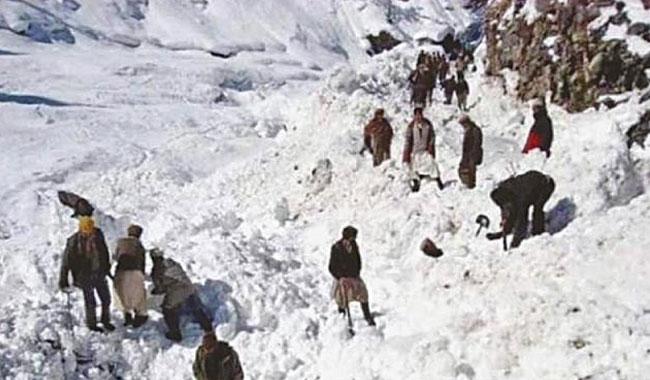 Six women and six children among the dead; 11 rescued and evacuated; PM grieved over loss of life; COAS directs maximum assistance to NDMA, PDMA and local administrations; heavy snowfall impedes rescue efforts; several areas without water, power as snow damages supply lines
CHITRAL: At least 15 people were killed on Sunday as avalanches hit several houses in Lotkoh tehsil and a post of Chitral Scouts in the Arandu Tehsil early Sunday, officials said.
Commandant Chitral Scouts Col Nizamuddin Shah said bodies of 14 people had been removed from the rubble. The dead include six women, six children and two men.
Muhammad Ali, a member of Tehsil Council, Karimabad, said the avalanche had hit eight houses in Shershal village burying three houses completely. He said 11 people hit by an avalanche had been rescued and evacuated.
The Karimabad Valley is prone to flash floods and avalanches. Eight students were buried alive in an avalanche in the same valley in March 2016.
As the main road to the area from Chitral town is closed at different points due to heavy snowfall, rescue teams faced difficulties in reaching the area.
Chitral Scouts Commandant Col Nizamuddin Shah said their men had joined the rescue efforts in the affected valley.
Meanwhile, a soldier was killed and six others injured when an avalanche struck the Kandaw Checkpost in Arandu Tehsil, lower Chitral. The body of the soldier, Irshad Ahmed, was dispatched to his native village in Torkhow while the injured were taken to hospital.
Meanwhile, all roads in the Chitral Valley are closed for vehicular traffic. The traffic on the main Chitral-Mastuj, Garam Chashma and Kalash Valley roads has also been suspended. Chitral's link with other parts of the country is also blocked.
The people in upper Chitral said they were unable to move even within their villages due to the knee-deep snow. There was no water and electricity as the water and power supply lines had been frozen or damaged.
The power supply to Brep, Dizg, Marting and Istach, Khuzh and other villages was also suspended. Booni town in upper Chitral was also without electricity as heavy snow damaged the power lines after which generators were not operated to light up the area.
APP adds: The National Disaster Management Authority (NDMA) on Sunday continued rescue and relief operation for the avalanche victims. A rescue team, comprising police and scouts, was sent by the Provincial Disaster Management Authority Khyber Pakhtunkhwa (PDMAKP) to Shershal that was hit by an avalanche at around 2:30am.
The NDMA sent 100 blankets, 50 quilts, 20 winter shawls, 50 stoves, 30 flour packets (20kg each), 10 plastic mates and first aid medicines to Chitral by an helicopter of the Pakistan Army.
The NDMA, PDMAKP and SDMA were jointly working for the rescue operation. The NDMA also geared up its coordination with the National Highway Authority and asked it to mobilise its machinery on all critical sections for road clearance.
Prime Minister Muhammad Nawaz Sharif expressed grief over the loss of lives in the avalanche and directed all relevant federal and provincial authorities to reach the site immediately and undertake rescue and relief work on priority, said a press release issued by the PM's Office.
Chief of the Army Staff General Qamar Javed Bajwa has directed maximum assistance to NDMA, PDMA and local administrations for timely and effective rescue and relief effort in snow-hit areas.
According to the ISPR, rescue and relief operation was completed in Chaghi. The FC assisted the PDMA overnight to rescue all the 108 stranded travelers and shifted them to Noshki. In village Sher Shal, Chitral, FC troops are assisting the civil administration and NDMA. — Source