Dumplings getting popular in Chitral, for the good
CHITRAL: Dumpling 'Mantu' or 'Mantuq', as they are locally called are becoming increasingly popular in Chitral. In the last couple of years especially during the corona lockdown days when restaurants were closed, the Mantu culture gained popularity. Originally introduced in Chitral by the Afghani refugees who would bring pots of Mantu prepared by their women folk at home, to the bazar and sell them squatting by the road side. Now even local Chitralis have taken to prepare Mantu at home and bring them for sale to the market. Small shops and khokhas (kiosks) have opened to meet the increasing requirement of this dish.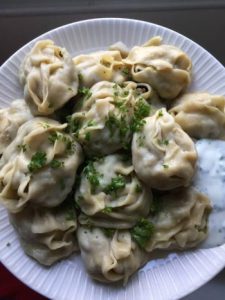 Mantu or the local dumpling, is prepared with Flour water and salt and contains meat inside mostly in the ones prepared in Chitral. The good thing about eating a Mantu is that it is steam cooked and does not contain any (or very little) oil. This is a very positive factor because the oil sold in the markets is injurious to health and the lesser it is used the better for the person.
The flip side to this healthy eatability is that that mince meat is used inside which has of late become 'dow numberi' with butchers mincing every rubbish in it. If pure and healthy beef or vegetables are used as a constituent of Mantu, it sure is a healthy and filling food. .. CN report, 28 Nov 2021